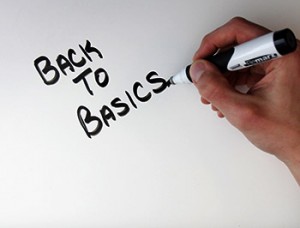 I've tried hard not to get into the squabbles of our time, and failed – I'm too juvenile to accept the principles the current conversation is predicated on, yet too foolish to stay out. Another self-deprecating way of saying it would be that I'm too ignorant or lazy to know where to begin, and most importantly, when and how not to. Even when I think I know where to start, it still feels pretty futile.
Well, I think I know where to begin this time. I'd like to show you two quick things:
As Feds trounced into our now-busted Speaker's office, Justin Katz asked the following on Twitter:
"@NBC10_Parker Silly question, but I can't help but wonder: Do they knock when they do that, or just stroll right in?"
What Justin was really asking was: "Are the bastards being civil?"
Another one from a year ago: As a bleeding Dzhokhar Tsarnaev was being arrested in a backyard somewhere in Boston, and for dubious reasons wasn't immediately read his rights, Saul Kaplan had this to say, again on Twitter:
"Read this kid his Miranda rights. We are a nation of laws."
I'm a decidedly different human being from Justin, Saul, Gordon or Dzhokhar. I walk, like everyone else for that matter, to the hopeful beat of a different drum. My cadence is one that I have a hard time appreciating, but I remain ever thankful I am not a Dzhokhar or for that matter, a Gordon. What is important to note is that we are all citizens – residents with rights and responsibilities to this strange republic. With Tzarnaev the exception, all of the above are also Rhode Islanders who give a damn. Despite the ambient psychosis that comes with being a member of this complicated community, we believe in its core values. We really do. Even when we don't agree on what exactly they are, why they are, or who embodies those values best, we still share them. We struggle to honor our principles even while we question them – so sometimes, when we're all in crisis, the scales fall off of our eyes and we can see them clearly in one another.
I've been focusing on those values for a while now, to the exclusion of almost anything else that might pay the rent. For me it is all about coping with what this country is, and what it is not. It all came to a head for me, as you might guess, after coming home from Afghanistan. It has taken a few years for me to let go of the crumpled wrapping paper that once conveniently concealed the lunatic shame of it all. It's been a pissed-off rager of a battle for me ever since, one that has broken me as it has broken many folks who can't bear to call it even or call it quits. The result is that I am no longer afraid, but instead rather empowered, when I meet anyone who's touched the dark matter of politics and lived to remark about it. We really need you people!
Those tweets have that special basic substance that makes this struggle worth it. Their depressing context might have us believing that we're aboard an ill-fated cruise, but their content shows us that we needn't look for icebergs if we know we already hit one. What we must do instead: make eye contact and start with the basics. We need to agree to take a long look at what we generally take for granted. In a year like this one, we can't afford not to. We can leave it to history to see who was right or wrong (since no one will ever agree on that anyways!) but we can not leave it to history to honor each other. It is time to dig deep and hit the books together. We have to do it anyways.
We will end up forgotten. Our devotion to the precious basics that we do share, will last.