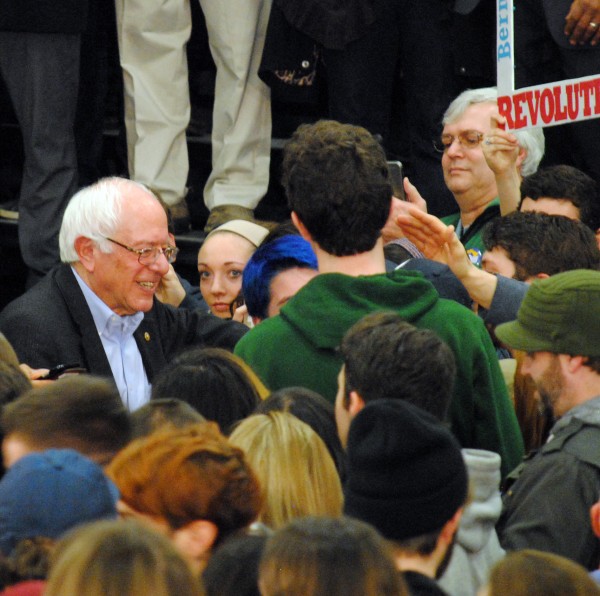 In some of Bernie Sanders' most recent ads, especially those made by volunteers, you'll see images of the candidate hugging people at his rallies. You'll see clips of him striding out on stage in front of ten thousand supporters, his fist in the air, punching into the bright lights above as if to shower the audience in sparks. You'll hear him rally those thousands until they break out in joyful chants and cheers; they stomp their feet and thrust their hands into the sky, reaching out of passion and graceful empowerment for the freedom and dignity we all deserve.
Though this almost feels like a dream, it isn't, yet the campaign's essence is made of dreams. This is a political and spiritual journey for a better future, built from the rising wave of populist righteousness that founded this country. Leading that journey today is Bernie Sanders; politically with his message for the restoration of American democracy from a wealthy and self-serving oligarchy; and spiritually through the unification of the diverse and empowered millions that seek a secure, fair, and bright future for all of us here and, most importantly, for our children and grandchildren, those yet to come.
We, the citizenry of this nation and this planet, cannot endure much longer under a broken and corrupt political process owned by the rich, nor can we stifle our own righteous anger and frustration with that process. Bernie Sanders knows this, knows us, and is one of us. He leads a fight for all of us, even for those who disagree with him. His ideas would benefit a vast majority of Americans that need a stronger social support system, and he plans to build that system from the need to care for each other during the difficult and anxious times that face us. He plans to build that system from our deepest sense of empathy.
I have been waiting for a leader like Bernie Sanders for my entire life. The politics of empathy that he personifies are those of an honest statesman who serves on principle and strength, rooted in a deep care for and understanding of poor and disenfranchised people, those who deserve someone who leads by virtue of an ethically and morally grounded heart and soul.
When I see those images, hear his speeches, and witness the thousands and thousands that flock to his rallies to hear his message of an honest and decent hope for the future, I am nearly driven to tears because I, for so long, did not believe that a candidacy like his was possible. After all of the corrupt and wretched politicians that I have seen and heard in my life, Bernie Sanders is an honest man who, against all odds, is determined to lead with an unbroken sense of what is right. He makes me believe that we can always do better and reach for more without losing our sense of communal empathy, our eternal sense of kindness.
Those politics of empathy are already deeply moving, and should he enact them from the most powerful position in the world, he will serve as an inspiration to all human beings.
Bernie Sanders and the politics of empathy

,