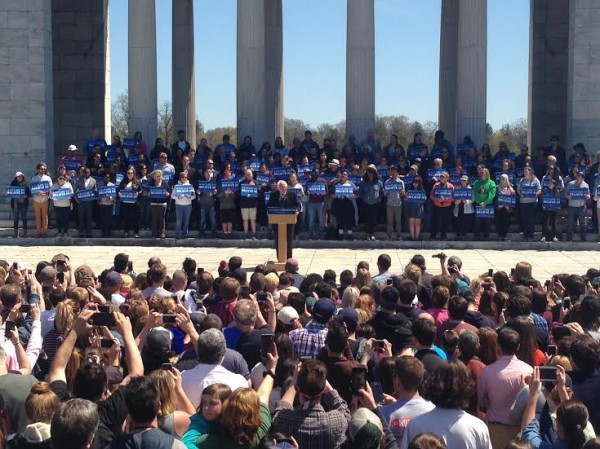 Bernie Sanders inspired an adoring crowd of about 7,000 people at Roger Williams Park in Providence Sunday with his call for action against Corporate America, the 1 percent and the establishment Democrats who tacitly and otherwise support them.
"What this campaign is about is asking people to reject the status quo," intoned the Vermont senator, who whipped the crowd into frenzied cheers for more than an hour. "Think outside of the box. Do not accept the reality of today as something we've got to live with in the future."
As has been the case at campaign appearances across the country, Sanders' supporters erupted every time he railed against the system.
"Why is it that in America we have more income and wealth inequality than any other country," intoned the Vermont senator rhetorically. "Who decided that the middle class should continue to shrink and almost all new income and wealth go to the 1 percent? Who decided that in America we're the only major country not to have paid family and medical leave or health care for all? Who decided that in 40 percent of the children in Providence, Rhode Island should live in poverty? Who decided that our infrastructure should crumble? Who decided that women should make 79 cents on the dollar compared to men? Who decided those things?"
"And now the American people are saying, you know what, that status quo, that corrupt campaign finance system, that rigged economy, that racism, that institutional racism that is not what this country is supposed to be about. And that is precisely what this campaign is all about. It is challenging the status quo. It is thinking big of what our country can become not thinking little of whether we cut this or we cut that. It is creating a standard of living that works for all of our people. It is about protecting our environment and our climate for our kids and our grand kids. It is about never again getting into wars that we should not have gotten into in the first place."
He touched upon several local issues, mentioning the high rate of poverty among urban youth, that Rhode Island has the highest poverty rate in New England and that decreasing wages. He contrasted Goldman Sachs with Pope Francis' vision of a moral economy. Goldman, one of the Wall Street banks that crippled the American economy, was recently welcomed to Rhode Island by Governor Gina Raimondo to give loans and coaching to small businesses. It has been involved in presidential politics because Hillary Clinton won't release the transcript of a $225,000 private speech she gave to Goldman executives.
As Sanders spoke, the Brown University Taubman Center for Politics and Policy released a new poll that had some good and bad news for his hopes of upsetting front-runner Hillary Clinton in Rhode Island's presidential primary election on Tuesday. Among likely Democrats to vote on Tuesday, Clinton bested Sanders 43 to 34 percent with 16 percent still undecided. But among independents, who unlike in New York can vote in RI primaries, Sanders bested Clinton 42 to 22 percent, with 24 percent still undecided.
While Sanders is still seen as being competitive with Clinton in Rhode Island, her big win in New York last week makes his path to the nomination unclear.
Sanders' campaign manager Tad Devine, a native Rhode Islander who still has a home on Block Island, said taking on the Democratic machine has been the biggest challenge to winning the hearts and minds of Rhode Islanders. He said the local media treated the Sanders' campaign "very well."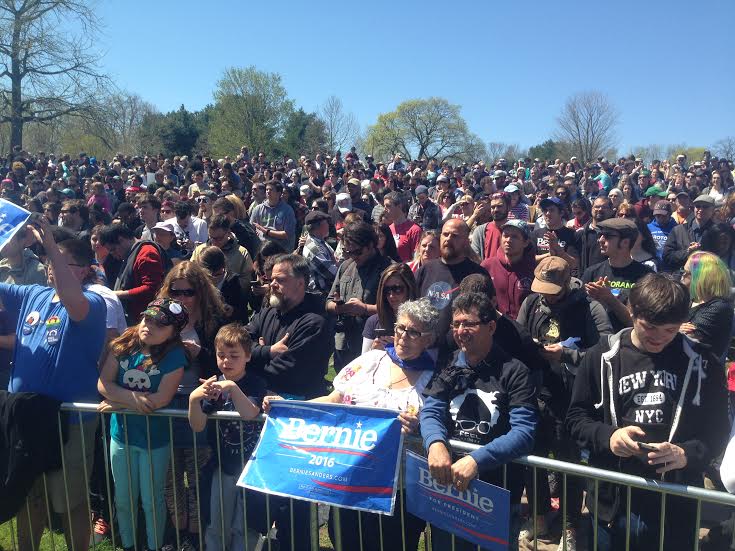 Bernie Sanders to RI: Don't accept the status quo

,