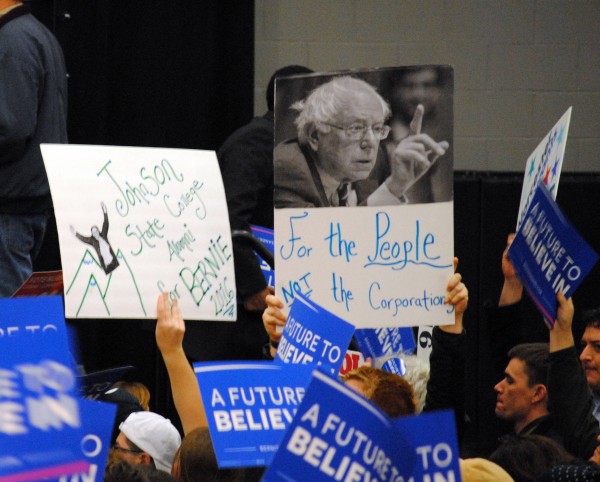 If you were in New Bedford during GOTV week, you wouldn't even think that Bernie got crushed in South Carolina. If you saw the number of canvassers, or the Bernie fanatics waving signs on street corners and telling passersby to vote on Tuesday, you'd think that the campaign is thriving and full of positive energy.
That's because it is.
In New Bedford, as I write this, more than 30 people are out on the streets with clipboards and Bernie stickers and pamphlets, knocking on doors across the entire city. Fifteen of them are from Rhode Island. Other RI volunteers are up in Worcester, Framingham, and Boston talking to voters. Right now, we're sweeping the state, asking every potential supporter to get out and vote for Bernie on Super Tuesday.
This is important. Primaries don't draw near as many voters as the general election, and a couple hundred votes can make or break a campaign. Boots on the ground and voices through the phone statistically lead to high voter turnout, as it did in New Hampshire. And an important fact of the South Carolina drubbing is that voter turnout was very low. Like Bernie has said, when voter turnout is high, Democrats win because voters feel empowered and energized, but when voter turnout is low and people feel demoralized, Republicans win. In this particular case, Hillary won, but if you consider the ideological gap between Hillary and Bernie, she might as well have been that uninspiring conservative candidate.
When I think about why I decided to volunteer for Bernie, it is because he has inspired me. As someone who all but gave up on politics, Bernie has ushered me out of the darkness of political apathy into a psychological state where I feel compelled to work as hard as I can with other volunteers to get him in the White House. And when we work that hard together for something that we all believe in, for a positive change that we want to see in the world, that inspiration comes not just from Bernie, but from all of us. It's synergistic, and our energy rubs off on one another. I've seen one-time volunteers suddenly decide to come back again and again to help our campaign win. The same thing happened to me after my first canvassing shift in New Hampshire.
The energy, the excitement, is addicting. And these campaign staffers hardly sleep—they are working every moment of their waking lives to get Bernie elected. No days off, 5 hours of sleep if they are lucky, but you can tell that they believe so firmly in their work that they wouldn't be doing anything else. That is truly inspiring. When we work together to Get Out The Vote, people vote! They did in New Hampshire, they will in Massachusetts, and as long as we keep up the pressure and keep gaining momentum, we will win.