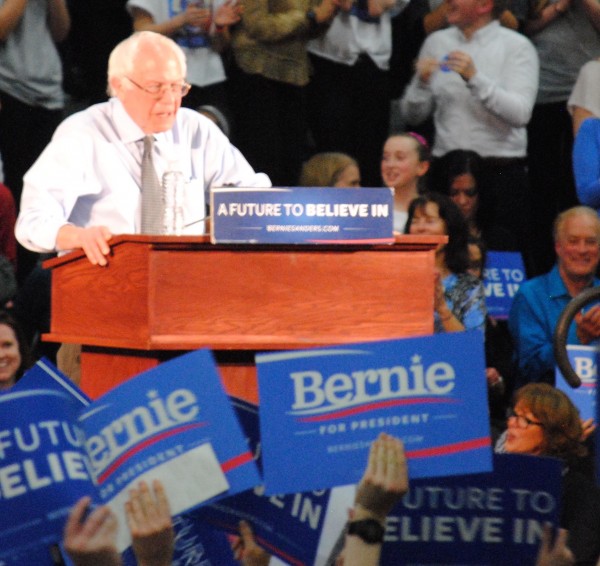 There is a sense of entitlement that comes from the Clinton campaign. One such example is the "I'm Ready for Hillary" bumper sticker, as if she is waiting in the wings; another is the term "coronation," which was bandied about early on in Clinton's candidacy when no one else challenged her. Some of her supporters even believe that Clinton deserves the White House, that she's been ready for it for years, and that, regardless of who challenges her, she will be the next president by virtue of being Hillary Clinton.
However, that assumption of the office, which is undemocratic and reeks of hubris, may very well be quashed by an impending FBI indictment. Trump could be dismantled through an arrest after IRS audits and after inciting violence against minorities at his rallies. Yet somewhere above all of that dirty campaigning, above all of that law-breaking, is Bernie Sanders and his peaceful revolution, a revolution that shows no signs of slowing or faltering.
$6 million in a day. $43 million in a month. Celebrity endorsements. Deep grassroots organizing from the bottom up. This revolution is here to stay. We are facing the dire consequences of late-stage climate change. We are facing the demoralizing effects of an unfair economic and political system. And we are facing two candidates that do not deserve to become President of the United States by virtue of their deceit and hate. Both Trump and Clinton have one thing in common: neither have the passion and power of a revolution to back them. Only Bernie does.
Meanwhile, Clinton does whatever she can to win, however illegal or unethical. Bill blocked the polls in New Bedford and campaigned within the 150 foot boundary, which could arguably have swung a tight race in Hillary's favor. Clinton bashed Bernie's goals as too "idealistic," then she co-opted them because she can't get elected without them. She even co-opted Trump's slogan of "Make America Great Again" by saying "Make America Whole Again," which should prompt another round of #WhichHillary? And the Hitler-esque Trump continues to use hate and racism to rally his ignorant and bigoted crowds.
There's only one clear and clean winner here, and that is Bernie Sanders. He is the only candidate to rise above the rabble and fray, and he is the only candidate that has the power of revolution behind him. He is the sole candidate who fights for the restoration of our democracy while other candidates seek to divide up what is left of it to benefit their own camps and donors, and, unlike Trump and Clinton, he is the sole candidate across the board that has no political baggage.
And you won't see his in the headlines: Bernie is the only Democrat who is winning multiple swing states while converting poor white moderates and libertarians–people who vote–to his side, and there are a lot of states like that left to go. That's what it takes to win the general.
However, he must make overtures to minority communities and get their votes by making his campaign personal. He needs to talk about what it was like to be considered a "non-white" Jew in pre-1960 Brooklyn. He needs to tout his record of fighting for civil rights over five decades, both as an activist and as a legislator. He needs to contrast his record on race to Clinton's, as his is spotless and hers is marred by her support of the "three strikes" mass incarceration law and her racist tone when calling young black kids "superpredators" who need to "heel" as if they were dogs. She is also the candidate who refused to relinquish the microphone when Black Lives Matter activists challenged her publicly, while Bernie simply stepped back, folded his hands, and allowed the young women to speak unobstructed. He even shook their hands, ready to be an ally to their cause.
I even spoke last weekend with a fellow canvasser, a middle-aged African-American woman from South Carolina, and she was the first to say that Bernie needs to make it personal. She believes that many of the black voters who went for Clinton would've gone for Bernie if they knew who he was and how he grew up as a minority, how he fought for civil rights since the 1960s, and how his record on race contrasts to Clinton's.
It would not be negative campaigning for Sanders to make it personal. No, it would merely be calling out the facts and showing where his heart is in the race. Bernie needs to get personal because all of us deserve a Sanders presidency. He is the minority American underdog who fights for what is right in the face of big money and big hate, and his victory would ensure a better America, and a better planet, for all of us. In the face of such disturbing American politics with the deceit of Clinton and the hateful rise of Trump, what is more beautiful and timely than a peaceful revolution for the people?
Now that I know Bernie's stance on the issues, I want to know his story. I want to hear what it was like to be an immigrant son from a family that escaped the Holocaust. I want to hear him speak of his history as a civil rights activist and as a legislator that consistently fought for equality. I want to hear him contrast his history with Clinton's instead of letting the media do it, and I want to hear him speak the narrative of a good human being who fights to help others as much as he can.
I want to hear him say it because I know that when everyone with a heart hears his compelling and moving story, he'll win in a landslide.
Bernie's peaceful revolution stays in the fight, but he needs to make it personal

,