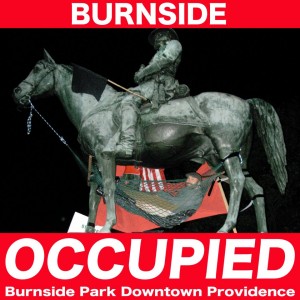 About half a decade ago, I sat in my college freshman orientation class and it was discussed that my generation was apathetic, detached, and essentially unresponsive to the issues that faced us. This is a common refrain about my generation, the Millennial Generation, and typically, newspaper articles have been written about it. That day we argued back. And one student (who dropped out later that semester) made the point that in the past, there had been leaders to rally behind; Martin Luther King, Malcolm X, John Lennon, etc., etc. She said, "where are our leaders? We're all concerned about these issues, but who do we rally behind?"
It's a question which has haunted me. But I believe they're out there. Right now, they're being shaped. But the question is whether they'll rise to their full potential or be cut down before they can grow.
The national actions that united under the banner of Occupy Wall Street present an interesting dilemma for my generation, and indeed the larger nation. I was present at the first meeting of Occupy Providence, and for a few weeks after that. I marched on October 15th, and in a different capacity, again on December 10th. These were the first marches in my life I've ever attended. Believe me when I say that I am often dispassionate about much of anything, but on these marches, especially on the 15th, it was a wonderful feeling.
That joy has largely waned, and I suspect that Octobert 15th was the high watermark of the Occupies in the USA. Occupy needed a Valley Forge, and it has not gotten one. Valley Forge, remembered mostly for the number of deaths the battered revolutionaries faced, is also where the revolutionary army became a true army. It is where it learned discipline, where its officers integrated themselves into the rest of the forces, and where America's fortunes went from near-defeat to victory; all in the span of a single winter.
Occupy, instead, is freezing to death. Most of its encampments are gone, and only its die-hard supporters still know what the score is. It has managed to shift the national conversation to where most Americans think it should be; jobs and fairness. But the tactics it used were unpopular, and I believe the encampments (the whole "occupation" part of Occupy) divided those who couldn't afford to encamp from those who could.
Commentators have used the term "Occupy Movement" to describe Occupy, but that is inaccurate. It was a series of actions, across the nation. It resisted leadership, it resisted giving itself a purpose. That resistance has cost it support, it has cost it a true rallying cry. There is no such thing as a movement without leadership. Instead, what happens is that the power of activists becomes utilized by every cause that sees potential in their gathering, no matter how just that cause. Various organizations around them become their de facto leadership. When Occupy is finished, it will look good on a resume, and everyone will say, "well, it's a shame it just died off."
Occupy instead should be the open salvo in a larger justice movement that desperately needs to come back to life. 1968 was the last year this justice movement was truly going on. With the deaths of Dr. King and then Robert Kennedy, that movement ground to a halt. Democrats backed away after the crushing defeat of 1972. By 1974, inequality was on the rise. The policies of Jimmy Carter and Ronald Reagan and their Democratic Congresses inaugurated it and every president since then has presided over its expansion. The movement which King and Kennedy and McGovern was forgotten.
Until now. Occupy has given it a desperately needed opening, at precisely the moment when it most needs to return. But we must not be afraid to do what Occupiers don't desire. A movement without purpose is masturbation. What Occupy cannot do, citizens should not be afraid to do. Let's draw an example from the Civil Rights Movement.
The Student Nonviolent Coordinating Committee was formed from a conference sponsored by the Southern Christian Leadership Conference. But SNCC was not a branch of the SCLC. They were encouraged to be their own organization. In our shortened memory, we forget how long it takes for movements to germinate, for organizations to spring forth. The Civil Rights Movement had been waged for years before the 1960s, but it came to a head at that moment. And most crucially of all, it was not waged by any one particular organization. An alignment of many organizations, from CORE to the NAACP to the SCLC to many others and a myriad of local organizations helped to build it.
Our new Justice Movement must likewise take on new organizations. Organizations unafraid to stand for solutions, to make demands. We must not be afraid to organize, and to organize well. Occupy has feared aligning with any one organization, and for good reason; it lacks discipline. Without discipline, it cannot say "we march with you, but not for you." It has been an important vent for frustrations, but those frustrations need to be heard by politicians, not just fellow citizens. And yet, in 2012, it refuses to even threaten the politicians who can do something about it.
If our Justice Movement is to complete the work of 1968, it must not be afraid to voice the concerns and the demands for economic fairness that most Americans have. It must not be afraid to wade into electoral politics, for American revolutionaries have long since given up the gun for the ballot box. If Occupy is to truly bring change, it must learn how to embrace the average American, not make them feel despised. If it cannot, then other people must. It is imperative for the country that we do, since we cannot allow another 40 years of this, or else there will be no country left.
In Rhode Island, we can see the problem clearly. Our politicians openly deny their citizens' demands for higher taxes on the wealthy. They cite the faulty premise of flight based on taxes. And they press for tax breaks for "development" that builds nothing but empty towers, leaving behind mute monuments to mediocrity. Our best hopes in the political realm have wandered away, or betrayed us, or are else unwilling to take a stand. Now, we as citizens must bring the heat.
It is time to start thinking beyond Occupy, to say that the tactic is played out, the name is meaningless, and better organizations can serve. We can form our own. It is time to foster our leadership, to understand that it's not bad to be a follower, to listen and to understand. If we want to build a truly meritocratic society, we must allow those better at leading to lead, and those better at organizing to organize, and those better at healing to heal. We all have skills. We need to utilize them.
We can no longer afford to be afraid of utilizing the assistance of politicians, labor unions, corporations, churches or anyone else who is willing to assist us in getting to the goal of a fair and meritocratic United States of America. Obviously, if the conditions of that assistance in unacceptable, then reject it. But there's no sense in rejecting allies in the current climate.
I worry that my generation will see these protests, see their defeat, and decide that the system is immovable; that despondence is the right answer. This is the first most of us have known of real protest, and yet, the American Occupy "Movement" was probably the least successful and least attended of the popular protest movements that happened around the world in 2011. We need more than occupations. We need new ideas, new people, and new organizations.
It is time for the citizen to once again go into the streets, with a protest sign in one hand and a ballot in the other and march to freedom.