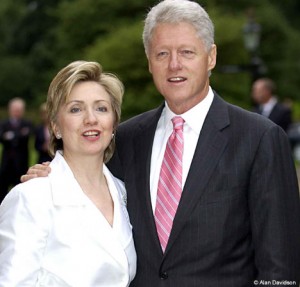 When former Secretary of State Hillary Clinton campaigns for Democratic candidate for governor Gina Raimondo at an event billed as "Rebuilding the Middle Class" she will be stumping from the same stage she stood on in 2008, when she rallied support for her presidential bid.
When the Clintons comes to the town, Rhode Islanders listen. In the last 23 years the former first couple has made more than a dozen visits to Little Rhody. No doubt that Hillary Clinton will stimulate more support for what could be the first female governor elected in Rhode Island.
Below is just a clip of visits from the last 23 years.
1991 Fundraiser at Providence University Club – Bill Clinton:  When he was still governor of Arkansas, Bill Clinton would attend a fundraiser at the Providence University Club. In attendance, former Providence Mayor Joseph Paolino, and Suzanne Magaziner, mother of the candidate for General Treasurer Seth Magaziner.
Oct 11, 1993: Brown University – Hillary Clinton:  First Lady Hillary Clinton appeared on a televised health care forum at Brown University. As First Lady health care reform was a critical part of her platform.
1994 Blackstone Valley Tourism Council – Bill & Hillary Clinton:  Both former President Bill Clinton and former First Lady Hillary Clinton made a trip to the Blackston Valley Tourism Center to celebrate the 200th anniversary of the founding of Slater Mill. This might be one of the few times the couple traveled to Rhode Island together.
August 1997 – Block Island – Bill Clinton, Hillary Clinton, Chelsea Clinton:  President Clinton arrived at the tiny Block Island airport with his family and Senator Reed to a large group of residents. He told the crowd "…this is the first opportunity I have had to thank the people of Rhode Island for giving the vice president and me the enormous vote of confidence we got here last November. And I'm very grateful to you. Thank you so much." Shortly after the visit to the home where the family stayed was renamed the "Clinton Cottage."
1998 North Providence High School – Hillary Clinton:  First Lady Hillary Clinton spoke to an auditorium full of students about the importance of education at North Providence High School. She met then North Providence Mayor Ralph Mollis. As Secretary of State, Mollis endorsed Clinton in 2007. "As a senator from New York, Clinton knows the challenges that northeastern states face. She understands and is ready to address the needs of Rhode Islanders," he said.
December 14, 1999 – Hillary Clinton: Democratic lawyer Jack McConnell headed a $1,000-a-plate fundraiser at his home for Hillary Clinton's New York Senate campaign. Friend and Democratic fundraiser Mark Weiner coordinated the pricey event. Jack McConnell went on to become a federal court judge in Rhode Island.
April 8, 2006 – Brown University – Hillary Clinton:  Sen. Hillary Clinton delivered the inaugural address for the Doherty-Granoff Forum on Women Leader at Brown University. Clinton has strong ties to Brown University as a result of her relationship with Ira Magaziner, a former aid the Clinton administration.
June 27 2006 Fundraiser – Bill Clinton: During a fundraiser for Senate candidate Sheldon Whitehouse, former President Clinton report joked that he had been to "Rhode Island so many times he thought he ought to register to vote here." Tickets for the event, which was healed at the University of Rhode Island, were $1,000 per-person. Sheldon Whitehouse went on to win the Senate seat from then Republican Lincoln Chafee.
Feb 25, 2008 Rhode Island College – Hillary Clinton: On a brisk February morning candidate for President, Hillary Clinton spoke to a packed gym at Rhode Island College. "I'm asking you to consider hiring me for the hardest job in the world," she said. On stage behind her sat Senator Sheldon Whitehouse, LG. Elizabeth Roberts, Congressman James Langevin, Treasurer Frank Caprio and Secretary of State Ralph Mollis. Clinton went on to win the Rhode Island Democratic primary on March 4th.
2010 – Candidate Rally (Caprio) – Bill Clinton: In 2010, Former President Bill Clinton stumped twice for Democratic Nominee and Candidate for Governor Frank Caprio. The first rally at the Rhode Island Convention Center, Clinton called Caprio a "Realist and a reformer,"a line that would used in a campaign commercial. The second rally, Clinton would tell a crowd of supporters at Veterans Memorial Auditorium: "I love this state, you've been good to me, and I've tried to be good for you." Caprio lost his bid for Governor. Weeks after the election headlines revealed that Caprio sneaked his opponents, Ken Block, behind the stage to meet and take photos with the former President.
2014: Candidate Rally (Magaziner) – Bill Clinton Twenty-three years after first coming to Rhode Island, former President Bill Clinton was back to stump for a candidate for treasurer Seth Magaziner. Cheers from the crowd at the Rhode Island Convention Center after Clinton proclaimed "I want to urge you not to be against anybody, but for Seth Magaziner. Seth is the son of former Clinton aid, Ira Magaziner. Magaziner is the V.P. and CEO of one of the Clinton many charitable foundations.
Bill and Hillary love Little Rhody: A history of their trips to RI

,