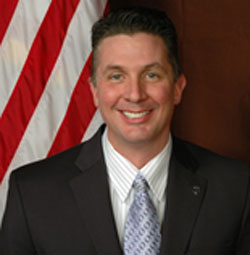 Conservative House Democrat Jon Brien of Woonsocket is not only a card carrying member of ALEC, the right wing group backed by some of America's most powerful corporations that writes model legislation for use in statehouses around the country, but he's also the lone Democrat on the group's 17 member board of directors.
"I don't feel it's largely Republican but I think it's a conservative group," he said, noting that ALEC stands up for low taxes and free market policies which are also core values of his. "I'm a conservative, I make no bones about that."
He added, "It's a collaboration between business and legislators. It's no different than a U.S. senator getting a donation from a corporation."
Brien said he was just named to the group's "governing body" in the past month. He said he was introduced to ALEC by former Woonsocket lawmaker and majority leader Jerry Martineau, a past state chair of ALEC who served jail time for political corruption for using his position in the General Assembly to curry business favors with CVS and Blue Cross.
"Jerry and I have always been friends," Brien said. "I wanted to pick up that mantle."
Brien will be attending ALEC's spring task force meeting in Charlotte this May where, he said, "we'll probably be talking about everything that is going on in the court of public opinion."
ALEC, which has for years flown below the mainstream media's radar, has been in the news of late for authoring the Stand Your Ground law in Florida that came under fire when it almost allowed George Zimmerman to go un-prosecuted for the killing of Trayvon Martin. Brien said last week ALEC decided to no longer work on non-economic policy after several large corporations dropped their membership
More recently, Common Cause has accused ALEC of tax evasion because the group is registered as an educational non-profit when it engages in lobbying efforts.
"It's a corporate front group that is cheating the tax payers," said John Marion, the executive director of Common Cause RI. Marion and Brien exchanged tweets on the issue yesterday afternoon. "They should own up to the fact that they are lobbyists and register as every other group has to do."
Brien denied the allegations, saying ALEC has done nothing wrong with its taxes. He said Common Cause has targeted ALEC not because the group is flouting its tax obligation but because ALEC, like Brien, support Voter ID laws, which Common Cause works against.
"They can't beat us legislatively, so they are coming after us in another way," Brien said."Do you think Common Cause is mad about taxes or because we are beating them on Voter ID?"
While he referred to himself as the "godfather of Voter ID in Rhode Island," he said he did not use the ALEC  model bill for Voter ID. He said he has never proposed an ALEC model bill in the House but he often proposes legislative issues that are also near and dear to ALEC such as anti-tax bills, education reform efforts and others.
Brien said since becoming the state co-chair of ALEC he has signed up some 10 new members from the legislature. He named Reps. Lisa Baldelli-Hunt, Dan Reilly, Doreen Costa, Lisa Tomasso, and Samuel Azzinaro. He said he hopes many of them join him at the annual meeting this August in Salt Lake City.
At that meeting, he will appoint Rhode Island legislators to ALEC task forces. The task forces, he said, pairs legislative members with corporate sponsors to hammer out new model legislation.