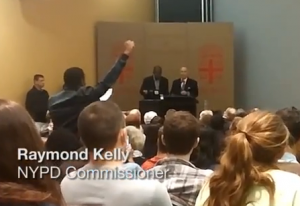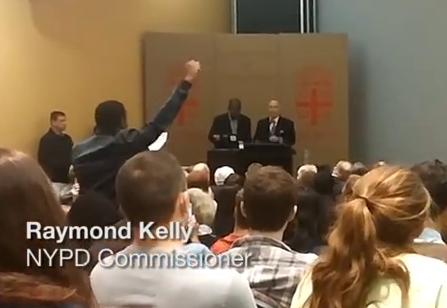 A group of Brown graduates have sent a letter to the university expressing their disappointment with the way the school reacted to students and community members protesting NYC top cop Ray Kelly in October. The architect of New York City's controversial stop and frisk policy, Kelly was shouted down at a Brown presentation in October and the University reacted by admonishing the protesters.
"We are impressed and inspired by the actions of the students who protested Commissioner Kelly's speech," says the letter. "We agree that the university must promote open discourse, but we also believe that peaceful protest and, yes, even disruptive protest, are bedrock expressions of free speech. We urge you not to limit the protections of speech to polite discourse."
The Ray Kelly protest not only divided the Brown community, but also the progressive left in Rhode Island. For example, Bob Walsh head of the state's most influential teachers' union castigated the protest on Facebook calling it an ineffective tactic, while Aaron Regunberg, head of the state's most influential student union, defended the direct action saying such a tactic was the only way to get the community's attention.
Andrew Tillit-Saks wrote this compelling op/ed about the reaction to the protest.
Here's the letter the alumni group sent to their school:
Dear President Paxson and Professor Anthony Bogues:

We, the undersigned alumni of Brown University, write to you to express our serious concern about the manner in which the University is addressing the events surrounding New York Police Department ("NYPD") Commissioner Ray Kelly's speech. We have reviewed the video footage of the event, as well as ensuing news coverage, and we believe that the students who protested Commissioner Kelly – both inside of and outside of the event – behaved admirably in denouncing Commissioner Kelly's actions and in calling out injustice.

Brown University has a long and proud history of student protests. During the Vietnam War, students walked out on a lecture by General Earle Wheeler, Chairman of the Joint Chiefs of Staff, while others protested by shouting at General Wheeler. When the University invited Henry Kissinger to speak during Commencement in 1969 and awarded him an honorary degree, students stood up during Kissinger's speech and turned their backs on him. In 1981, students picketed a speech by William Casey, director of the Central Intelligence Agency; during Casey's lecture, numerous students stood up and disrupted Casey's speech by reciting Lewis Carroll's Jabberwocky. In these and countless other moments, Brown students have used peaceful protest and direct action to challenge injustice. We are proud to be a part of an institution that has such a strong and inspiring history of student protest.

In President Paxson's November 6, 2013 letter to the Brown community, she wrote: "Brown's core value of promoting the free and open exchange of ideas is bedrock to our capacity to fulfill our mission as a university. This value applies not only when ideas are agreeable and aligned with our own. Protecting the right to free expression and promoting open discourse is even more essential when ideas are divergent, abhorrent or even hurtful."

We agree that the university must promote open discourse, but we also believe that peaceful protest and, yes, even disruptive protest, are bedrock expressions of free speech. We urge you not to limit the protections of speech to polite discourse. Rather, we urge Professor Bogues, as well as the other members of the disciplinary committee that has been convened, to understand that the freedom of expression encompasses a much broader range of speech: heated discussion, chants and protests, intemperate remarks, and speech that makes many of us uncomfortable.

Protecting the freedom of expression is a messy endeavor, but we hope that you and the disciplinary committee do not undermine the role of protest and direct action in Brown's intellectual community.

We are impressed and inspired by the actions of the students who protested Commissioner Kelly's speech. The Taubman Center had invited Kelly to deliver the Noah Krieger '93 Memorial Lecture. We note that, in inviting Kelly to give a named lecture at a preeminent university, the Taubman Center lent Kelly legitimacy, prestige, and the opportunity to burnish his troubled public image. Kelly presided over countless violations of civil rights during his tenure as NYPD Commissioner – including the stop-and-frisk program, the unlawful detention of protestors at the 2004 Republican National Convention, the surveillance of mosques and Muslim citizens, among others.

We support the students' actions and we hope that the Committee will not discipline them for their use of peaceful protest to challenge injustice. Instead, we urge you to support students who take a stand against institutional racism and structural violence.

Sincerely,

Cristina Gallo '02
Molly Thomas-Jensen '02
Sharif Corinaldi '00
Keren Wheeler '00
Peter Asen '04
Martha Oatis '03
Damali Campbell '01
Annabelle Heckler '08
Amber Knighten '02
Seth Leibson '05
Sara Nolan '01
Riana Good '03
Abena Asare '02
Melissa Sontag Broudo '01.5
Kaizar Campwala '02
Anne Lessy '13
Rocket Caleshu '06
Ida Moen Johnson '05
Sam Musher '01
Molly Geidel '03
Rebecca Rast '13.5
Martha Patten '02
Alexa Engelman '03.5
Alisa Gallo '93
Karen Pittelman '97
Marisa Hernández-Stern '05
César Cuauhtémoc García Hernández '02
Maria Walker '02
Matthew Palevsky '07
Emma Clippinger '09
Ariel Werner '09
Rachel Judge '07
Robert Smith III '09
Nicholas Chung '09
Sheila Thomas '70
Chloe Holzman '02
Bruktaweit Addis '11
Janet Santos '02, '07 M.A.
Nicholas Werle '10
Jonathan Allmaier '02
Michael Enriquez '11
Darshan Patel '09
Caroline Young '05.5
Alison Klayman '06
Amy Joyce '01.5
Alex Werth '09
Brown alumni say school handled Ray Kelly protest poorly

,