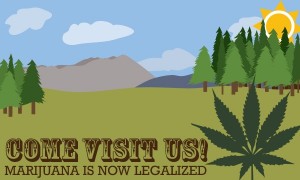 Colorado expects to make $133 million in new revenue this year because of legalized marijuana. This is twice what the state anticipated when it became, along with Washington, the first state in the nation to tax and regulate the giant underground pot economy. Between legal and medicinal marijuana, Colorado expects more than $800 million in sales alone this year.
For comparison, Rhode Island faces a similar-sized budget deficit this year ($149 million) as Colorado expects to reap in new revenue, and the state legislature here is considering legislation that would make us the third state to profit from pot. Rep. Edith Ajello and Senator Josh Miller are sponsoring the bill and they wrote an op/ed about why here.
News of how the marijuana industry is proving to have a very positive effect on Colorado's economy is starting to sweep the nation. Earlier this week, the Associated Press reported on a 5-year-old who stopped having hundreds of seizures a week when she experimented with a tincture made from marijuana plants grown specifically to prevent seizures.
From the AP, which says the science is still unproven but "more than 100 families have relocated" to Colorado to try the special strand of marijuana grown to accentuate the chemical naturally found in the plant that reduces seizures:
The doctors were out of ideas to help 5-year-old Charlotte Figi.

Suffering from a rare genetic disorder, she had as many as 300 grand mal seizures a week, used a wheelchair, went into repeated cardiac arrest and could barely speak. As a last resort, her mother began calling medical marijuana shops.

Two years later, Charlotte is largely seizure-free and able to walk, talk and feed herself after taking oil infused with a special pot strain. Her recovery has inspired both a name for the strain of marijuana she takes that is bred not to make users high — Charlotte's Web — and an influx of families with seizure-stricken children to Colorado from states that ban the drug.
The New Hampshire state legislature is also considering legalizing marijuana and the Oregon legislature is debating putting the question to the voters as a ballot initiative.