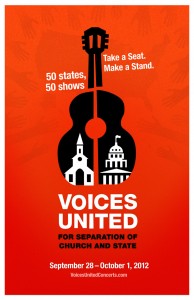 It's hard imagine something more encoded into the very DNA of the United States than the concept of separating church from state. It was this concept, enshrined in the Establishment Clause of the First Amendment to the United States Constitution with the words "Congress shall make no law respecting an establishment of religion" that made our country unique. Here in Rhode Island this idea takes on added meaning because Rhode Island was the first government, anywhere in the history of the world, to enshrine this concept into law. This is a wonderful legacy, and one Rhode Islanders would do well to cherish and nurture.
Of course, nothing so important and wonderful could ever just be allowed to go on unchallenged, so this core American principle is under attack by religious right legal groups such as the ADF and the ACLJ, by disgraced pseudo-historian David Barton, and by the Providence Diocese and Bishop Tobin right here in our own state. Given this opposition, could there be a better time to remind people of the importance of our secular heritage?
To that end, the 65-year-old Americans United for the Separation of Church and State are sponsoring a series of concerts across the country as a way of rallying Americans to remember the importance of this idea. Voices United for the Separation of Church and State will bring together some of our area's best performers for some excellent entertainment tonight at The Locals, 11 Waterman Avenue in North Providence.
Featuring the award winning talents of  Ed McGuirl, Jacob Haller and Allysen Callery,  and with a suggested donation of only $5, this promises to be a fantastic show for an important cause. I hope to see you there.
Concert Tonight for Separation of Church, State

,