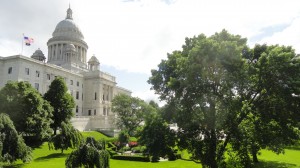 Whenever I talk about Rhode Island and corruption, invariably, someone always argues against the facts (which are that Rhode Island isn't particularly corrupt, in comparison with other states). I've already covered the fact that in every ranking of state corruption, Rhode Island never places particularly high. So let's address the counter argument, which is always anecdotal.
"What about the 'I know a guy…' mentality?" is the usual retort. There's always an example, and indeed, it's not hard to find examples. The problem is that the arguer isn't pointing to corruption, it's that they're pointing to cronyism. And cronyism isn't illegal. Sad but true. So while it may be "corruption," it's not corruption that leads to prosecutions.
When we argue against cronyism, what we're attempting to do is argue for meritocracy. Cronyism, nepotism, patronage, etc., etc., these are all direct threats to meritocracy. But there's the problem: meritocracy is an incredibly difficult system to put in place.
We don't always "earn" our jobs via merit. In fact, we rarely do. We get our foot in the door because we knew a guy. Or because we smiled the right way, or someone had a good feeling the right way. Maybe we were first to be interviewed. Maybe we were last. Maybe we arranged our resume in manner that pleased the person who looked them over.
When you start discussing meritocracy, you start asking yourself all sort of hard questions about ability. Do you hire someone who's nice but not particularly good because you think that they'd get along well with the rest of the office, boosting happiness and productivity? Do you hire the arrogant jerk who's arrogant precisely because they're excellent at what they do? Should a person's messy personal life be included for evaluation when their professional work is spotless?
And that's just the beginning. Is it any wonder that many employers, and folks in government, rather than evaluate people based on merit choose to go with the people they know? Not at all. Youknow Pete. Pete's a good guy. Pete was at your wedding. You get along with Pete. You know his work history, you know his abilities. It's a hell of a lot easier to hire Pete than wade through resumes and interviews (just as an aside, interviews have about the same success as drawing names from a hat of finding the right person for the job).
The great irony in the argument against government cronyism is that those who would espouse that government should be more businesslike would find that cronyism would increase. Most corporations remain a stark feudal construct, completely undemocratic, and at higher levels, often anti-meritocratic. Also ironically, to ensure meritocracy in government, faceless bureaucracy would have to increase, so that candidates could be selected without regard to personal feelings. It'd be a cruel world.
All this isn't to say that cronyism or corruption shouldn't be addressed. I hate cronyism. It ruins the idea that you've made your own place in the world, it makes you doubt your own victories. But every time we here the phrase "well, you have to network," what we need to realize is that that's just code for saying "you have to participate in cronyism." It's the way the country has been functioning.
Finally, all Rhode Island governments need to be seen as addressing corruption. That's something that should be done, regardless of where Rhode Island stands in rankings. The problem is that Rhode Islanders perceive their government as corrupt. And that perception is deadly to trust and faith in government.