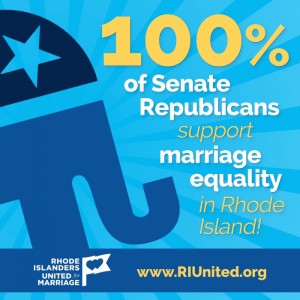 Last night a lengthy Twitter discussion erupted about the Senate Republican Caucus unanimously supporting marriage equality which is a first among legislative caucuses; according to the Human Rights Campaign. It was about as substantive as one can be with 140 characters, including people's handles. Mainly, it sought to suss out the reason why the Senate GOP would back marriage equality so dramatically, enough to garner coverage in national press outlets.
In the interest of brevity, I'll sum up my reading of the debate (with all the attendant failures of interpretation). One side suggested that the stance would harm the Republicans among social conservatives, who have formed a significant faction of the party for the last generation or so. Another group was of the opinion that the move undercut the Democratic Party among its socially liberal partisans; a stance highlighted by Democratic Senate Majority Leader Dominic Ruggerio exercising his status as an ex officio member of the Senate Judiciary committee to help lessen the losing margin. Suffice it to say, with the Senate Democratic leadership so obviously opposed to marriage equality from the Judiciary chairman to the Senate President, why did Senate leadership allow themselves to be maneuvered into this position where they appear at odds with their own base while the Republicans look like brave heroes?
For one thing, the Senate Republicans have it far easier. The Dems have a 32-member caucus. The Republicans have a 5-member caucus. It is easier to reach consensus in a 5-person group than in a 32-person group. Helping is that the most conservative Senate Republicans lost to Democrats in the last election. Democrats, with a popular appeal that has widened over the last century, are naturally going to be more fractious.
Added to this is the intense scrutiny that Democratic Party legislators have faced since before the last election cycle. More than a few socially conservative Democrats were removed in primaries, while others retired. Those that made it through have faced a massive lobbying campaign from marriage equality supporters and also faced pressure from their counterparts in the House of Representatives.
However, our observers on Twitter were attempting to figure out the political calculus. And perhaps that's what's confounding about the situation; it's not as simple as political repercussions. Perhaps all five Republican senators determined that it was the right thing to do.
Marriage equality is not a simple piece of feel-good legislation. It's one infused with emotional, moral, and societal implications and arguments. It's also a heavily religious battle, especially since a huge proportion of these state contracts are granted during an important religious ceremony. Hundreds of years of importance are being placed on this ceremony. On one hand, you have people who openly define their views as "traditional" and seek to prevent change. On the other, you have people who are genuinely in love, and whose sexual orientation has been persecuted for thousands of years. Homosexuality was still listed as a mental disorder as recently as 1973 by the American Psychiatric Association; the World Health Organization took until 1990 to make the correction.
Sometimes, when the motivating factor is love, we cannot find a political reason for political action. Sometimes people act not on what will be best for them, but what they believe is right. This ability, to do the thing you think is right even when it may not be the best thing for you personally, is a lesson we attempt to teach our children. It might shock the worst cynics among us that as children our legislators may have absorbed that lesson. The Senate Republican caucus has done the right thing. Maybe it's as simple as that.