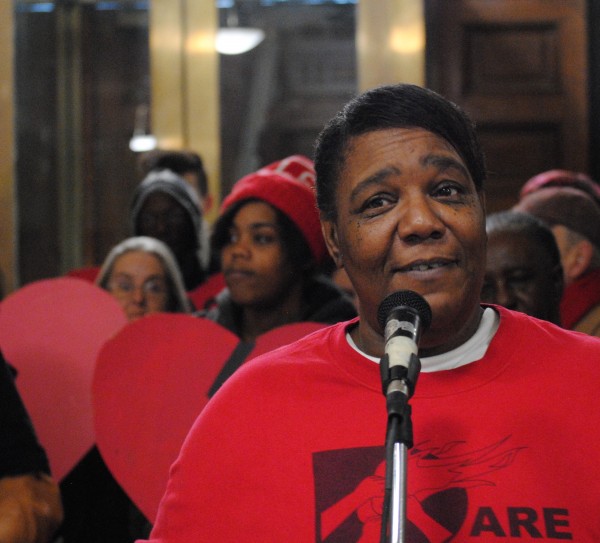 Activists from DARE (Direct Action for Rights and Equality) and Tenant and Homeowner Association (THA) set up outside Mayor Jorge Elorza's office on the second floor of Providence City Hall to demand changes to the city's Everyhome program. About fifty protestors, carrying heart-shaped signs, and a poster-sized infographic about the program dotted with broken hearts, gathered in the foyer on the second floor of City Hall.
Mayor Elorza did not meet with the activists.
Roline Burgison, Tenant and Homeowner Association leader and member of DARE's Board of Directors, began the speaking program. Burgison explained that she was forced to move in with family after a two-year fight to stay in her South Providence apartment following a foreclosure. She wants to return to the city's Southside neighborhood, where she raised her children, but the rent is un-affordable, and low-income developments have long waiting lists.
"I went to a local Community Development Corporation the other day and was told that I could qualify for housing based on my income," said Burgison in a statement, "but that I might have to wait two years or more. There is a housing crisis in this city, and the Mayor and the Everyhome program need to deal with that."
Burgison explained that the group was there to "break-up" with the Mayor, because he had ignored their proposals to make the Everyhome program better, and denied their request for a Community Advisory Board to oversee the program. According to DARE and the THA, she said, community members' hearts are broken over the gentrification and displacement occurring in some of the city's low-income neighborhoods of color.
Malchus Mills, THA member-leader, outlined the group's major concerns about the way the program is being conducted. "Right now, there are no standards for the quality of the homes once they're renovated, the city is not being transparent about which properties are being targeted and why, and they are not addressing the desperate need for affordable housing in our city." Mills went on to share statistics from Housing Works RI's recent Housing Fact Book, including that 57 percent (over 18,000 households) of Providence renters pay more than 30 percent of their income in rent and the city currently has 10,500 units of affordable housing. "You need to make 43,000 dollars a year to afford a two-bedroom apartment in Providence now. How many people here make that?" he asked.
Joe Buchanan, DARE Board member and life-long Southside resident, outlined the group's demands for changes to the Everyhome initiative. "We want the Mayor to announce the creation of a community advisory board for Everyhome and hold the first meeting in March. We want to see 50 percent of the properties targeted by the program set aside for very-low income housing, and we want a list of all the contractors hired for receivership jobs. We want this set-aside and the list by Tuesday."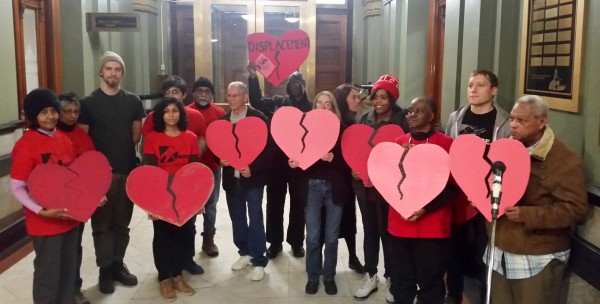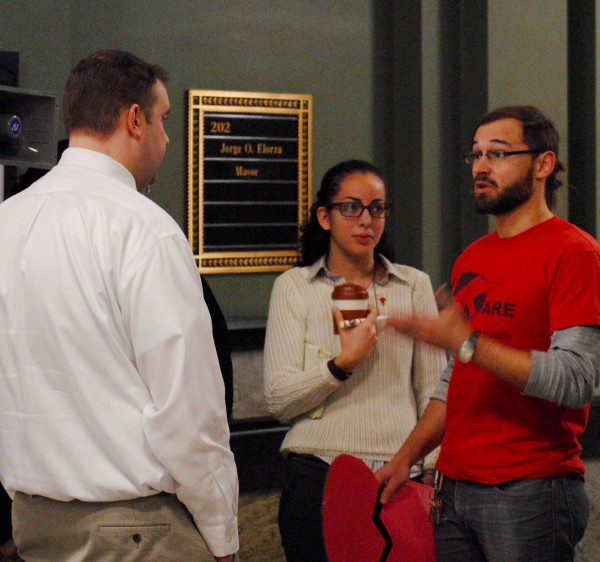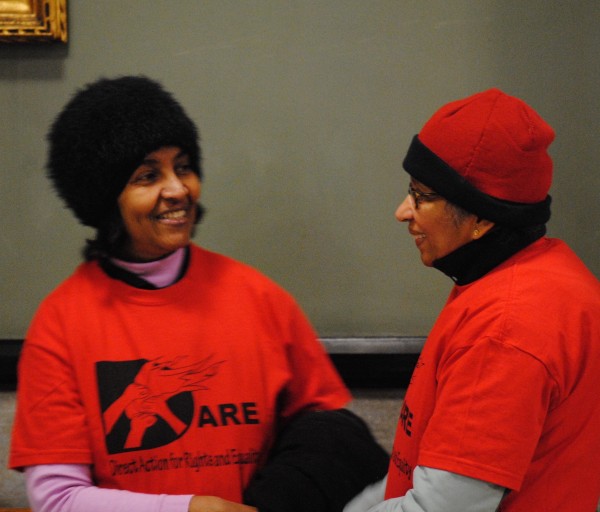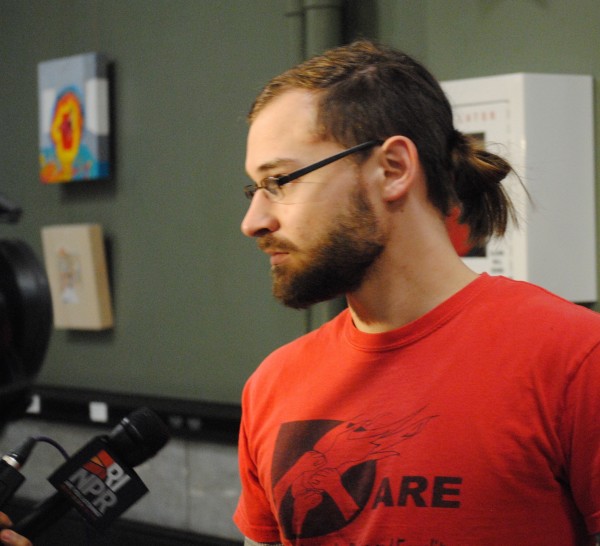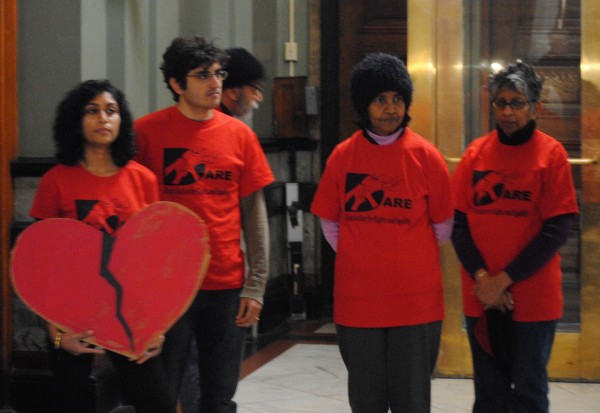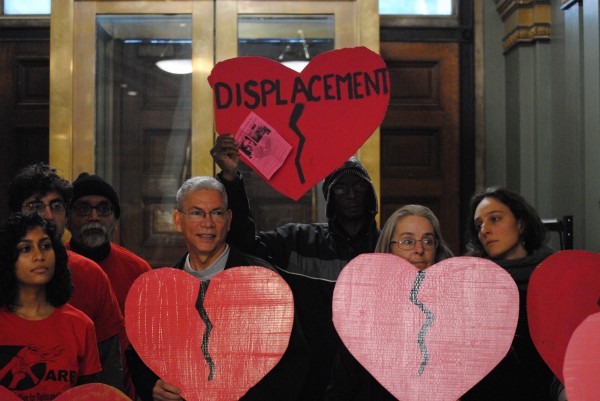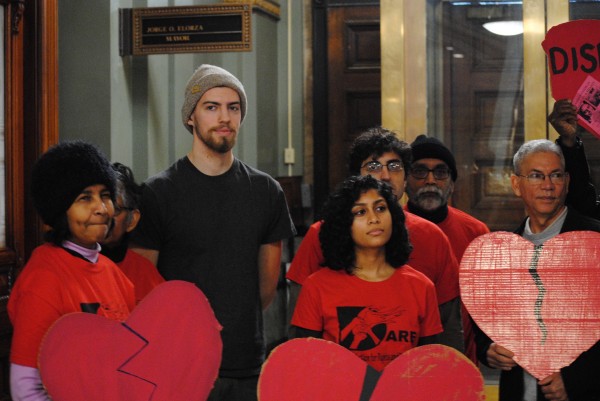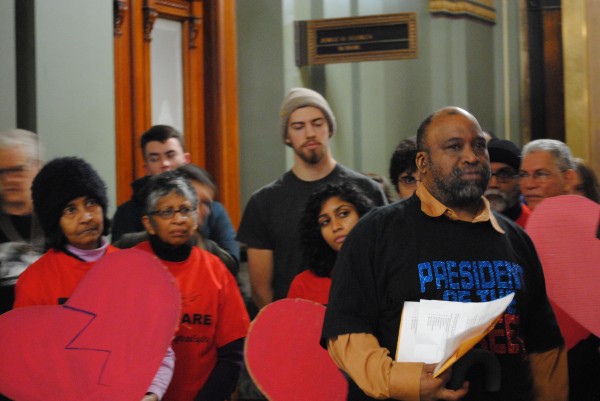 DARE challenges Elorza's Everyhome initiative over gentrification and racial displacement

,