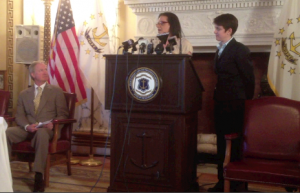 Deb Tevyaw and Pat Baker would have benefited greatly from Gov. Chafee's executive order recognizing same sex marriages from other states. The two women married in Massachusetts in 2005 and resided in Rhode Island. But after impassioned efforts on behalf of marriage equality last session, they didn't get to testify together this year, or watch the governor decree their relationship marriage valid yesterday.
Baker lost her battle with cancer in August.
Instead, Tevyaw took in the governor's historic executive order without her longtime spouse, and spoke of how the lack of such legal protections added undo consternation to last days of her lover's life.
"I can't begin to really tell you what this was like," she said, holding back tears, as she spoke at the event to mark Chafee's executive order. "All the late nights Pat spent on the phone and on the computer trying to get answers about pensions, survival benefits and social security. All things that most people in their last month of their life wouldn't be forced to worry about."
In what was otherwise a joyous occasion, Tevyaw's remarks were a stark reminder that marriage equality is more than a mere matter of politics. To some, it is literally about life and death. And for Tevyaw and Baker, marriage equality did not come soon enough.
With Jack Reed now supporting same sex marriage, Teresa Paiva Weed is the last of Rhode Island's premier politicians to stand in the way of marriage equality. Thus the only thing stopping Rhode Island from approving the legislation is the state Senate. Here's hoping she sees what a smart politician her fellow Catholic Jack Reed was being and allows the measure to proceed before any more couples miss out on their chance.
Here's a video on Deb and Pat's struggle to attain equal rights made by Marriage Equality Rhode Island several months ago:
Deb Tevyaw, Pat Baker Never Got to Enjoy Equality

,