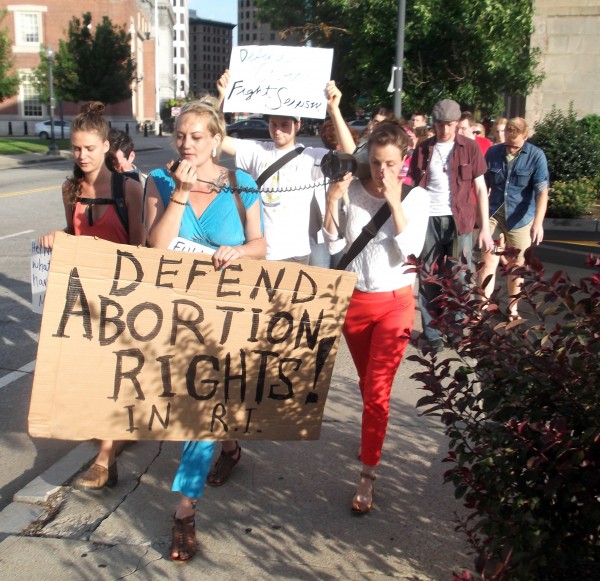 You wouldn't know it from the national media's lack of interest or coverage, but yesterday, across the country, there were a series of pro-choice events organized to protest the theocratic, retrograde and down right dangerous bills being passed in state legislatures from Texas to North Carolina and even (to our shame) Rhode Island. Organized locally by Lindsay Goss and the Rhode Island Anti-Sexism League, yesterday' protest started at Burnside Park and marched to the State House, where Paula Hodges of Planned Parenthood gave a talk about the political landscape in Rhode Island concerning women's reproductive rights.
Hodges ended her talk with "three asks,"
Register to vote and vote. Elections matter here, especially in a state with Democratic primaries with such low voter turnouts. The next major election isn't for another year but mark your calendars. September 9th (2014) it is important to vote in that primary.

Call Governor Chafee (401-222-2080) and ask him to veto the "Choose Life" license plate bill. He has until Wednesday to act and veto the bill. Governor Chafee has been a strong proponent of women's choice.

Last thing we need is that we need you to sign up and get involved. We need you to run for office and get behind candidates who are running.
Lindsay Goss talked about institutions like CareNet, who, if the "Choose Life" bill passes, stands to collect tens of thousands of dollars with the government acting as its deacon, passing the collection plate, saying, "Crisis pregnancy centers, [like CareNet], give out false medical information to women who are in difficult or complex situations. We don't need to be intimidated, ashamed or embarrassed instead of being spoken to like the adults that we are."
Later, Goss added, "This doesn't end with abortion and reproductive health care. This about full comprehensive health care for every single person."
Sherrie Anne Andre has a background in working with indigenous women in North Dakota who are victims of domestic violence and spoke movingly of women who found themselves in a situation where the nearest clinic that provided access to abortion was a three or four hour drive away. Many of these women could not afford to support a child, but could also not afford to miss a day's work or risk losing their job to go to the clinic. She added, "Not only is access to abortion important, but if women don't have access to clean water, clean air and safe environments then really isn't a reason to advocate for abortion because we're not maintaining healthy lives."
Amija, a brave sixteen year old girl spoke to the crowd. She attended the rally with her grandmother. "I would like to think that personally I would have a child, but I'm one person in seven billion, and it's not my choice for everyone."
Pat Smith, of the Progressive Democrats of Rhode Island, said that "there's a dreadful irony that people who believe that life begins at conception, but ends at birth. They support nothing for eduction, nothing for children's programs… If they truly believe in the sanctity of life then they would support all the programs that help maintain quality of life, and they don't."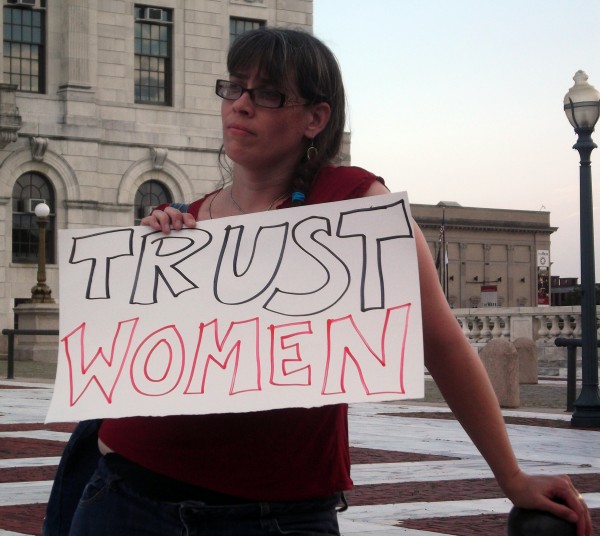 Mary spoke about a man named "Joe" who was highlighted in an article in the Providence Journal who makes a career out out harassing women at abortion clinics. This man records license plates of people who come and go and even hands a pair of baby socks to women as they leave the clinic.
Mary and some others decided to go out and counter protest this man, who worked to harass women at a place that should have been safe ground. It just so happens that Mary was visibly pregnant with her son at the time…
Ashley, recently from Texas! spoke about meeting a woman who was actively promoting reproductive rights in the 1960's and the horrors and tragedies she encountered.
A woman who identified herself as a person of faith said that "At one point in my life I would never have considered myself to be pro-choice, but I realized it's not just about abortion. It's never just about abortion it's about access to contraception, and it's about the access to women of [post partum] mental health care and what they want to do is strip everything away. They really want to take it all." She concluded with,
As a person of faith I want to say that these people who are speaking out in the name of God against abortion should be told that Jesus never shamed women.
Mariah spoke of her own abortion experience, and being forced to walk by the protesters who treat every woman on their way in or out of a clinic as going there for abortion, when in fact most of what these clinics do has little to do with abortion. These judgements serve to intimidate women from accessing needed health care.
Full video of all the speakers available here.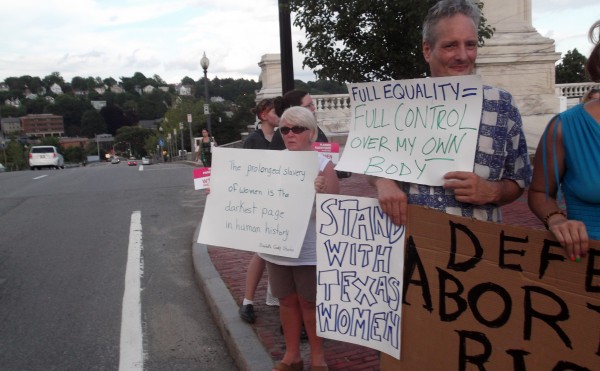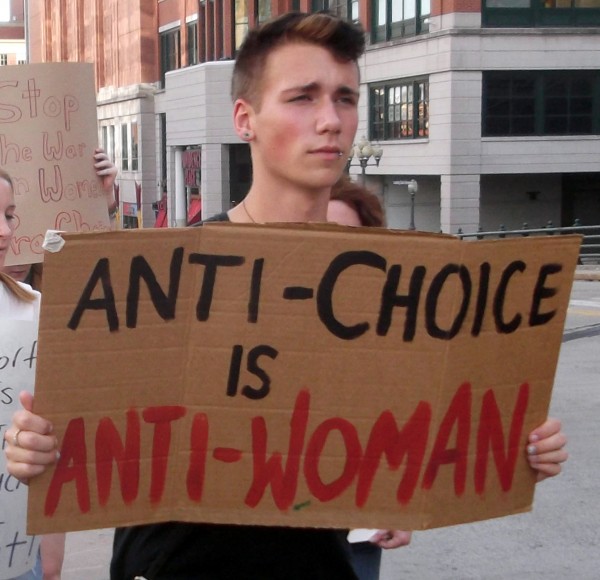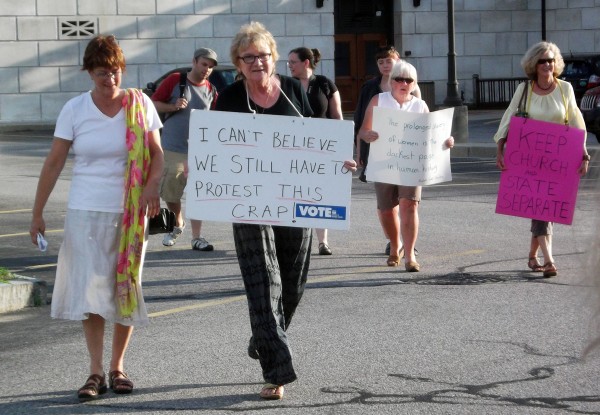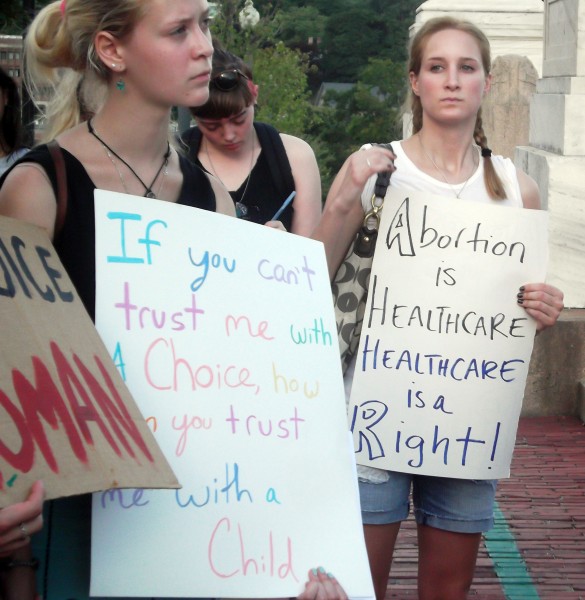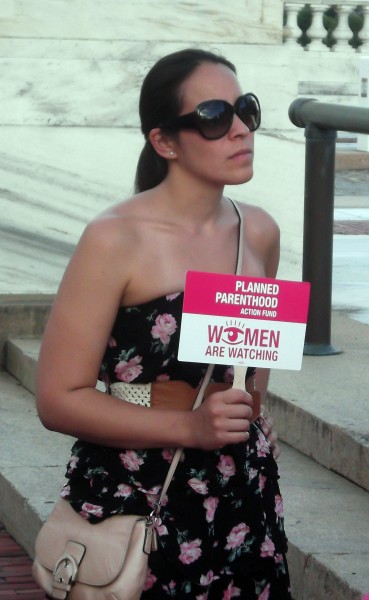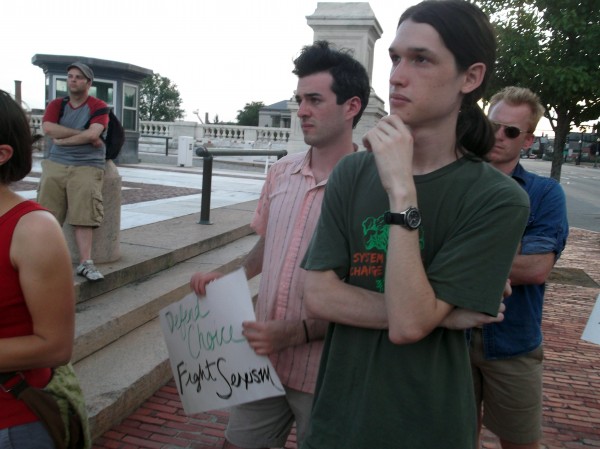 Defending Abortion Rights in Rhode Island

,