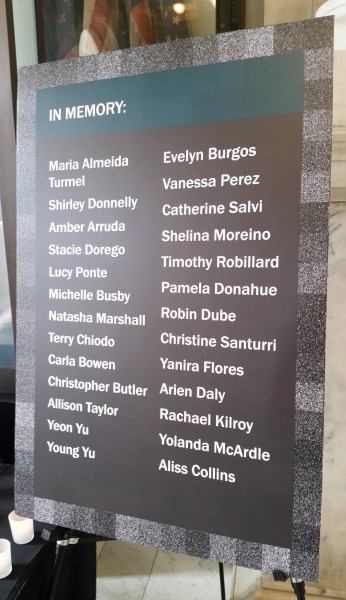 During the past ten years, from 2006 to 2015, 54 people lost their lives to domestic violence homicides in Rhode Island over the course of 48 incidents, says a new report from the Rhode Island Coalition Against Domestic Violence (RICADV).  Domestic Violence Homicides in Rhode Island, 2006-2015 is a first-of-its-kind report. The report contains key findings, homicide incident descriptions, and recommendations for preventing future domestic violence homicides in Rhode Island.
By analyzing the collective data, the report delivers some key findings:
Domestic violence homicide is a violence against women issue: Of the 45 victims killed in intimate partner homicide incidents, 34 (76 percent) were women.
Guns and domestic violence continue to be a deadly combination: Firearms made already violent situations more deadly. In every incident where a bystander was killed, a gun was used.
Many of the intimate partner homicide incidents shared common elements that are known to indicate a heightened risk of homicide: In 14 of the 41 cases, there were indications that the perpetrator had been stalking the victim, 20 of the 41 perpetrators had been arrested for domestic violence in the past, and in 22 of the 41 cases there was evidence that the victim had already left or was planning to leave when the homicide occurred.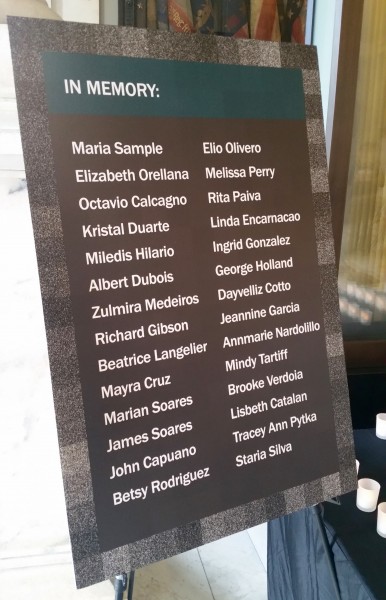 The report offers five recommendations:
Rhode Island must continue to invest in coordinated community response to domestic violence and foster collaboration between law enforcement, courts and victim advocates.
Rhode island must implement dangerousness assessment and screen all domestic violence criminal cases for lethality risk factors.
Rhode Island must pass legislation to prohibit convicted domestic violence perpetrators and perpetrators subject to domestic violence restraining orders from possessing guns.
Rhode Island must pass legislation to strengthen the state's current laws against stalking and consistently enforce protective orders.
Rhode Island must take steps to stop domestic violence before it happens in the first place and establish a fund that will support evidence-substantiated public health approaches to the primary prevention of domestic violence.
At the press conference to announce the report there were two posters bearing the names of all those murdered in Rhode Island in domestic violence incidents. Two women told heartbreaking stories about losing a family member to domestic violence. In the first, Jami Ouellette talks about her sister Stacy's death at the hands of her abusive husband. The story is graphic and chilling.
Next, Ann Burke tells of her daughter's death from intimate partner homicide. A health teacher, Burke has been instrumental in getting the state to teach teens about intimate partner violence, but she has been doing so without any funding since the program began. She co-founded the Lindsay Ann Burke Memorial Fund in he daughter's memory.
Deborah DeBare, executive director of the RICADV walks us through the report.
Rhode Island Attorney General Peter Kilmartin also spoke. He has been a strong advocate for the prevention of domestic violence.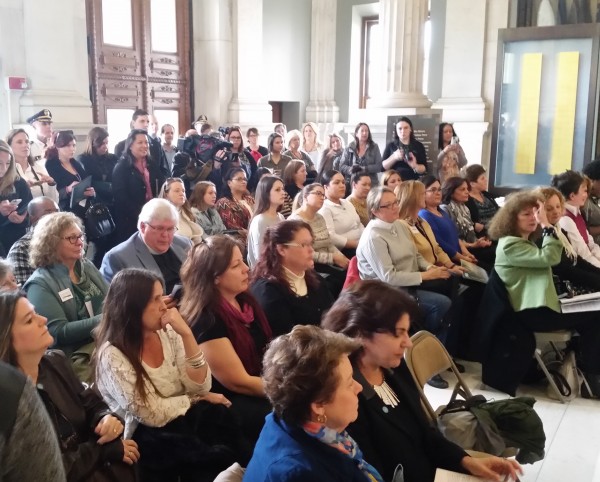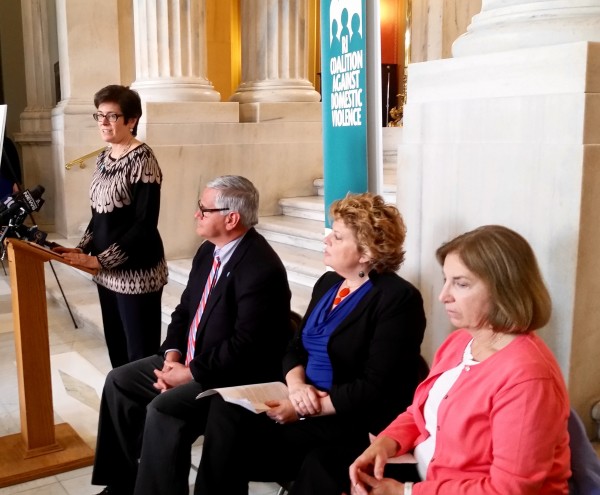 Domestic violence homicides in Rhode Island are preventable

,