The Environmental Justice League of Rhode Island (EJLRI) has created a brilliant position paper, "National Grid's Liquefied Natural Gas (LNG) Liquefaction Facility: Toxic Hazards in the Port Providence: Proposals for a Just Transition" that eviscerates National Grid's plans to build a new liquefaction facility for fracked LNG at Fields Point in South Providence. Over the next few days RI Future will be presenting the EJLRI's position paper in its entirety.
Public Health
All of the above issues discussed in this position paper are also public health issues. In looking at the social and environmental determinants of health, public health paints a picture that helps explain why particular populations are more likely to be sick. Issues of potential disasters, environmental racism, climate change impacts, and economic inequality are all public health issues. The EJ League is the backbone organization for COHEP (Community Organizing for Health Equity in Providence), a collaborative effort with DARE (Direct Action for Rights and Equity), PrYSM (Providence Youth Student Movement), and the RI Doula Collective. COHEP is funded through the RI Department of Health's "Health Equity Zones" (HEZ). As a place ­based initiative that works to develop collective impact strategies to address health problems and health disparities, COHEP's HEZ work focuses on a few neighborhoods in South Providence including Washington Park, a front-line community to Port of Providence. Research and GIS mapping conducted as part of the HEZ community assessment show that Washington Park has largest concentration by far of chemical exposures in Providence, and also has the highest concentration of leaking underground storage tanks: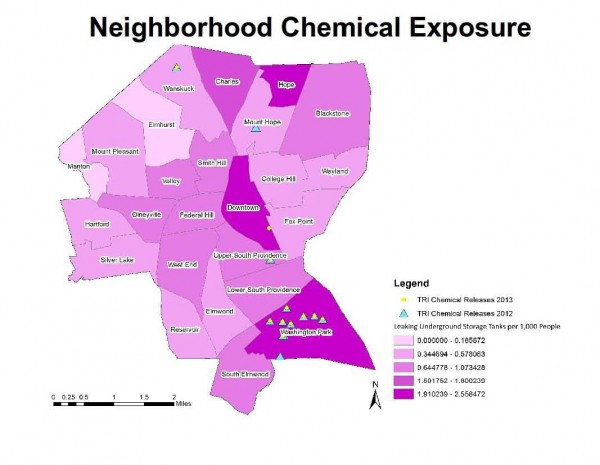 At hearings and public events about the proposed liquefaction facility, multiple community members have spoken out about issues of high asthma rates in the community being a major concern. Public health data backs up this concern, and shows that the area is one of the state's largest asthma hot spots. While most of the state has asthma rates of 0­4.4 percent or 4.5­6.2 percent, most of Providence has asthma rates of 8 – ­10.3 percent and the neighborhood next to I­95 and the Port has the highest levels in the state at 10.4 – ­15.4 percent. (link)
On top of the high level of children with asthma, the front-line community and asthma hot spot next to the port also has some of the highest levels in the state for Emergency Department visits or Hospitalizations due to asthma. Among children with asthma living next to the Port of Providence, 15.5 –  ­ 24.1 percent have had an Emergency Department visit, compared to rates of 0­3.3 percent for more affluent neighborhoods in Providence. Similarly with asthma ­related hospitalizations, for front-line neighborhoods adjacent to the Port or Providence, children with asthma had inpatient hospitalizations at a rate of 5.1 – ­8.3 percent compared to the rate of 0­0.7 percent in the more affluent neighborhoods in Providence.
In addition to the many health problems and health disparities impacting the neighborhoods of South Providence and Washington Park, there are also public health impacts relating to healthcare facilities in these communities. The Lifespan and RI Hospital complex is the largest and most visible concern, containing the state's only level 1 trauma center, Rhode Island Hospital, Women and Infants Hospital, and Hasbro Children's Hospital.
In addition to this major hospital complex, there are many other healthcare facilities within a close radius (1 to 2 miles) from the proposed liquefaction facility and close to the other hazardous facilities in Port of Providence. These include but are not limited to:
Hasbro's Medicine Pediatrics Primary Care (245 Chapman St) ­ this facility offers primary care for children, and also offers specialty services for chronic conditions including asthma, diabetes, and hypertension, which exist at very elevated levels in this neighborhood. The facility also offers gender and sexual health services. It falls within the one mile radius of the proposed liquefaction facility.

Providence Community Health Centers (375 Allens Ave) ­ PCHC serves approximately 50,000 patients in Providence, many of whom are low ­income, uninsured or under insured, and suffering from health problems impacted by social determinants of health. This location has their administrative building for all 9 health centers in Providence, as well as the Chaffee Health Center which serves patients. It is located within the half mile radius of the proposed liquefaction facility.

Providence Community Health Centers Prairie Avenue complex (369 Prairie Ave) ­ this health center location also includes the asthma and allergy specialty clinic for the entire PCHC health center system across Providence.

Fertility Solutions (758 Eddy St) ­ specializes in fertility treatments and in vitro fertilization and other related services

New Beginnings (717 Allens Ave) offers perinatal and ultrasound care
It is clear from this limited list, that any cumulative or emergency ­related impacts from the proposed liquefaction facility would not only impact the whole state's health care system, but would particularly impact health care services related to maternal and child care, reproductive care, chronic disease care, and emergency response services. Ongoing background pollution and risks in this area should be seen as a public health crisis. Any potential future disaster impacting the port could cause a public health emergency of unimaginable proportions.
See also:
●  Flawed Proposal: Background info on National Grid's unnecessary project
●  Potential Disasters: dangerous facility in a high risk area
●  Environmental Racism: ongoing and underlying environmental justice issues
●  Climate Change: it causes climate change and is at risk from climate impacts
●  Public Health: health disparities and impacts on health care institutions
●  Economic Inequality: high cost project that will cause economic damage
●  Alternatives and Solutions: Strategies for Climate Justice & a Just Transition
Public Health: health disparities and impacts on health care institutions

,