As 2012 comes to a close, it's natural for this to be a time of reflection. This was a busy year in the Biggest Little State in the Union, much was done and undone and that calls for awards being handed out to those who made a difference, whether they be heroes or villains. So, lets get started and remember these are in no particular order and the opinions expressed are my own.
Comeback Player of the Year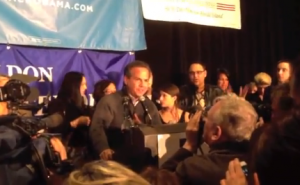 Yes, it's a sports analogy but there's no other way to describe Congressman David Cicilline's improbable climb out of the ratings doldrums he was mired in early in 2012 to score a decisive win over Republican challenger, Brendan Doherty. The pitch his campaign made that sending any Republican to Congress would mean a continuation of Speaker Boehner's policies resonated not just locally but was an effective message nationwide. Truth be told, that pitch earns the Cicilline team a Cy Young Award too.
The Never-ending Story
While support for marriage equality is growing across the country and more states than ever before now recognize marriages of same sex couples, Rhode Island remains stuck in the Middle Ages and the only New England state without provisions for same sex couples to enjoy all the benefits of marriage. Maybe now that Speaker Gordon Fox has made the commitment to addressing the issue fully in this year's legislative session the folks at Marriage Equality Rhode Island will get their wish if they can convince members in the Senate to vote their way when any bill passed in the House heads to the upper chamber.
The Biggest Loser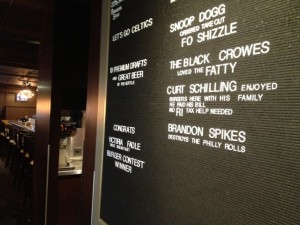 In any given year this award could go to a host of worthy individuals but this year's recipient, Curt Schilling, negatively impacted so many Rhode Islanders that the award is his alone. Not only did he make former Governor Donald Carcieri, former Economic Development Corporation Director Keith Stokes and the business leaders that stack the board of the EDC look foolish, he left the taxpayers of this state on the hook for northward of $100 million. While Schilling supposedly lost $50 million of his own money in the deal and the state is suing to try and recover what it can, he still blames everyone else for his lack of business acumen. Maybe someone should put the "bloody sock" on eBay to see if it can fetch a few million dollars.
Social Climber
This award goes to the hardest working man in media, Dan McGowan, who endured years of low pay and uncertain working conditions. All the while, Dan used his love of journalism and the new social media landscape to stay relevant and scoop the better-funded and long-established stars of local media. He obviously did it right since WPRI Channel 12 just hired him for their staff. Great job, Dan. While I didn't always agree with his picks in his "Who's hot and Who's not," column, it scares me even more to think who might take over that job now that he's leaving. Keep up the good work, Dan, just don't break a leg on any trampolines!
Divider-in-Chief
With 2012 being a presidential election year, it began in a polarized state and only got worse from there. Locally, John DePetro felt he could whip up the fringe elements on the right (lets face it, they're the only ones who listen to him.) Mr. DePetro felt the need to set his minions upon a high school student who felt, correctly, that a prayer had no place in a public school building. He also felt the need to stir up the non-controversy of the Holiday/Christmas tree at the State House. Seriously, is this the only way he can keep his name in the spotlight? And if that's not enough, he divided his own newsroom by allegedly sexually harassing a female co-worker on several different occasions, one time asking if she'd like to participate in group sex. One has to wonder how Mr. DePetro can claim the moral high ground on any issue while cheating on his wife, embroiling his employer in a human resources nightmare and forcing co-workers to look for work elsewhere.
 The Survivor
Butting heads with the Speaker of the House is never a great strategy when it comes to advancement at the State House, but Spencer Dickinson did just that and survived to tell the tale. Writing a scathing letter to his constituents to let them know exactly what was taking place and then aiding the Speaker's independent opponent in the general election worked and he won difficult primary and general election challenges. However cathartic it might have been for Mr. Dickinson to do what he did, it still remains to be seen if he'll be able to get anything done now that he's crossed that Rubicon.
The Monty Hall Award
It's nice to know that not everyone in this state believes everything on the editorial pages of the Providence Journal and is willing to explore options rather than dig in and prepare for trench warfare. That's exactly what Gov. Lincoln Chafee proved recently by meeting with local public sector union leaders to discuss the state of the pension lawsuit now working its way through the state court system. The governor is being pragmatic, the court case isn't as solid as many believe. Recent rulings in other jurisdictions have proved that and the way Mayor Taveras handled the situation in Providence showed that negotiating was the proper method for settling the issue rather than having legislation rammed down people's throats.
Best Take Out
No, this isn't about food and RIFuture isn't looking to horn in on the Phoenix or RI Monthly, this is about electoral politics. Jon Brien was already listed as a candidate for DINO of the Year in a post earlier this week and there's no doubt that's true. Mr. Brien's membership in ALEC, his rabid support of the VoterID bill and his overall disdain for the constituents he represented is what lost him the Democratic primary in September, that and a healthy dose of progressive boots on the ground to educate those constituents as to what Mr. Brien was really doing. To make matters worse, Mr. Brien announced a write-in campaign and proved his DINO status by going on Mr. DePetro's radio show to complain he'd been targeted by unions and progressive groups. What really happened was that Mr. Brien thought he owned the seat and he'd never lose it.
Sinking Stock
With her singular achievement, the pension reform legislation, now ordered to mediation by the courts, Gina Raimondo, is in risk of losing momentum for a run at governor in 2014. Digging in and saying the state has a strong case when others want to negotiate a settlement – like Mayor Taveras did in Providence – isn't demonstrating an air of cooperation from the general treasurer. Now that she's cut where she can, it's time for Ms. Raimondo to look at the other side of the ledger and raise some revenues, something that's been lacking when it comes to the performance of the state's portfolio. Maybe she should spend more time here trying to raise money for the state's coffers, rather than fundraising and promoting herself out of state.
Man With a Plan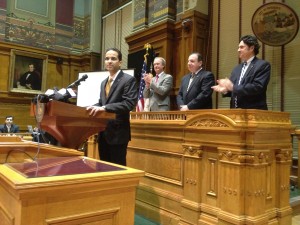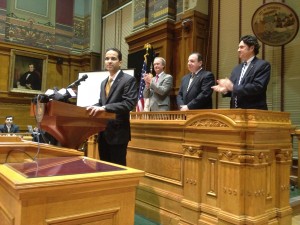 There's no argument, the man with the most difficult job in the state has to be Mayor Angel Taveras, the mayor inherited a city in financial turmoil and in two short years has worked with major stakeholders to chart a course that puts the city's fiscal house in order. Yes, there were bumps along the way – the firing of all the city's teachers in Feb. 2010 – but the mayor has worked diligently to include all interested parties and keeps the city's residents informed with neighborhood meetings and has met with union members and retirees to keep them informed along the way. there's no doubt the mayor is the state's most popular politician right now, and with good reason. Mayor Taveras is a natural problem solver and has assembled a team around him that knows how to get things done quietly and efficiently. other politicians could learn a lot from him.