Ken Block is appealing to voters that he is the incorruptible candidate – or at the very least, that he believes strongly that the other candidates are far less ethical. Sound the trumpets! Ken Block is the cleanest candidate! He has taken swings at Mayor Fung for taking money from labor groups with whom he negotiates. Yet Ken's campaign is firing shots at the recent People's Pledge as well: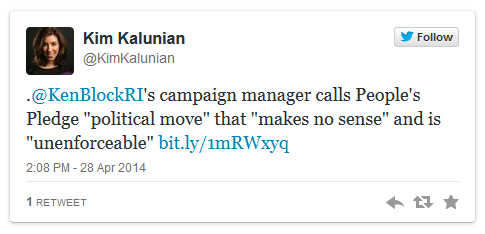 I appreciate that Ken is taking a stand of some kind, but to my knowledge, little has come from Ken's campaign regarding what broader policy changes he would push for if he gets to be the governor. It seems he's going to lead by example:
"As Governor I will not accept any contributions from anyone who will be negotiating directly with the Governor's office." Ken is swearing off the cash from labor groups and private contractors of various kinds in a broad swing at corruption. These groups will not be allowed to give money to his campaign, and presumably while he's in office. Big statement! We'll come back to that in a second..
But the real problem goes pretty deep. First of all, both Ken Block and Clay Pell have never sat in office the way that candidates Raimondo, Fung and Taveras have. I don't see it as coincidence that the newcomers are raising the "follow the money" banner highest; it is all too easy to do so when you've never had to negotiate with all the many parties who stand to benefit, or suffer, at the hands of a decision you make as a chief executive. That doesn't mean I dislike either Ken or Clay for emphasizing clean elections   – –  I just know that its not so simple.
The "fix 'em up" newcomer is a perennial spectacle in American politics. The dark horse has dealt with far fewer yucky realities, including an often devastating trail of influence, due or undue, accumulated from years of hard-fought handshakes and horse-trading. I have no doubt that Fung, Taveras and Raimondo have been influenced by contributions from various groups and individuals. Like it or not, that's how this Republic functions – especially under our current regime of campaign finance, where those with dollars can soak their favorite candidates in cash with barely any functioning restriction.
So back to "Governor Block." What will he do if so titled? Apparently, he will not take money from those whom the governor's position influences. He says negotiates directly.. But that's EVERYONE! Everyone in this state is affected by the choices of the chief executive, and thus there really isn't a single dinner party, donation or even volunteer hour that can be fully divorced from the realities of governance. Yes, Ken says only those he negotiates with directly, and surely that's an ethical step forward, and I applaud it here: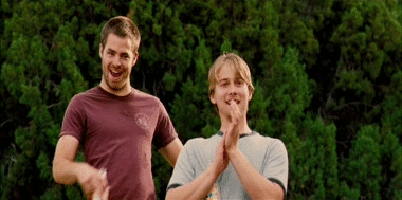 But again, there is no free lunch as a politician. People want you to make certain choices, and if you lean in their favor, they'll green it right back at you.
And that's the hardest part. If you don't pledge your way our of taking "dark money"- then even as a candidate Mr. Block – you will be stuck working with a whole lot of it (and I think you know that.) It is the only way the big guns can help you out, and without good accounting of where those dollars come from, Joe Public is stuck fearing the worse. Thus, even if you're as ethical as Susan B. Anthony, the smell of hidden money will rot the trust of the public. As a result, the change you stand for turns out to be bunk.
So unless candidate Ken Block wants to help institute public financing, or be a voice to tackle issues at the national level, we'll remain stuck with outsiders and insiders unduly and easily influencing our governance, much to the detriment of real local debate and good policy. The People's Pledge might not be perfect by any means, but it is a signed document. I would like to see the Republican candidates sign onto it themselves, and barring that, at least come back at us with real policy or signature legislation. It is possible to solve a big chunk of this problem right here in lil Rhody. For me, what separates Ken Block from Clay Pell is that Clay has put his John Hancock on the paper – not to mention calling for the pledge in the first place.
That's leadership! I need to see some of it from the Block campaign if I'm to be convinced that real reform is on the march in Rhode Island.