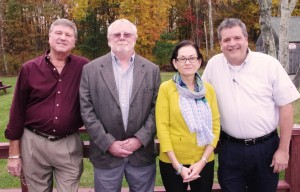 On Saturday, the people of Exeter spoke decisively. Rejecting the gun lobby's attempt to overturn the results of the 2012 election, they overwhelmingly voted against the recall of the four Democrats on the five-member town council. But will this matter for the issue this whole election was fought over—fixing the small town's "shall issue" concealed carry permitting loophole? Sadly, the answer is probably no. Why? Because the NRA still controls the General Assembly.
Many Rhode Islanders are shocked to learn that House Speaker Gordon Fox, House Majority Leader Nick Mattiello, Senate President Teresa Paiva-Weed, and Senate Majority Leader Dominick Ruggerio—all Democrats—have each taken thousands of dollars from the NRA. And I believe those contributions are illegal. (The NRA's Rhode Island PAC shut down in response to a complaint I filed alleging major violations.) As if that were not enough, the chief lobbyist for the gun people is former House Speaker Bill Murphy, who is nominally a Democrat. All this in a state that favors an assault weapons ban by a 37-point margin.
Even though reform advocates probably have the votes for an assault weapons ban on the Senate Judiciary Committee, conservative chairman Mike McCaffrey (who has also received thousands of dollars from the NRA) refuses to call a vote. Although the House Judiciary Committee is chaired by true Democrat Edie Ajello, who has never taken a dime from the NRA, Speaker Gordon Fox refuses to let her call a vote either. A few weeks ago, Fox told me privately that he will not allow any substantive gun control measures to move in the 2014 session.*
The interesting question is whether he will extend this ban to something as minor as a tweak in permitting authority. In many ways, it makes political sense for him. Letting a measure this tiny get a vote would allow Fox to pretend he is doing something about gun violence, while avoiding actually doing anything about gun violence. Of course, if he is so deeply ideologically committed to the NRA that he opposes any step forward, he will once again deny the people of Exeter this small public safety measure, a measure they clearly want. It is up to Gordon Fox.
*Speaker Fox denies saying this to me, according to his office.  I stand by my words.
Exeter could still lose on the gun issue that sparked failed recall

,