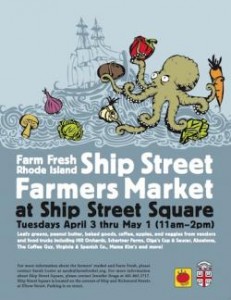 Rhode Island is home to one of the fastest growing agricultural sectors in the U.S. Its diversity of farmers' markets throughout the state, urban education programs on farming and nutrition as well as food delivery programs for restaurants makes this the place to be when it comes to growing it…and consuming it locally!
Once considered the Mecca of the jewelery manufacturing and design business worldwide, it's nice to see the Jewelry District come alive again with biotech, tech and design businesses and, now, this farmer's market!
The new market starts Tuesday and will be held every Tuesday at 11 a.m. to 2 p.m. through April at the Ship Street Square.
More here:
On Tuesdays starting April 3rd, Farm Fresh Rhode Island is partnering with Brown University to bring a farmers market to Ship Street Square in the Jewelry District. Stop by the Ship Street Farmers Market from 11am-2pm and find: fruits and veggies from local farms including Schartner Farms and Hill Orchards; lunch from the Mama Kim's food truck; a mid-day pick-me-up from The Coffee Guy; or a treat from Olga's Cup & Saucer. The market will run 5 Tuesdays from April 3rdthrough May 1st.

Customers may use cash, credit, debit, EBT cards, and WIC Fruit and Vegetable checks at this market. Those wanting to use a credit, debit or EBT card can purchase Fresh Bucks – farmers' market tokens – at the Farm Fresh RI table. If you have questions about the market please contactsarah@farmfreshri.org.

Ship Street Square is public park located on the corners of Ship Street and Richmond Street. The space is managed and maintained by Brown University and the University welcomes community-oriented programming. If you would like more information or would like to apply for space for events, performances, celebrations, etc, contact Jennifer_Braga@brown.edu.