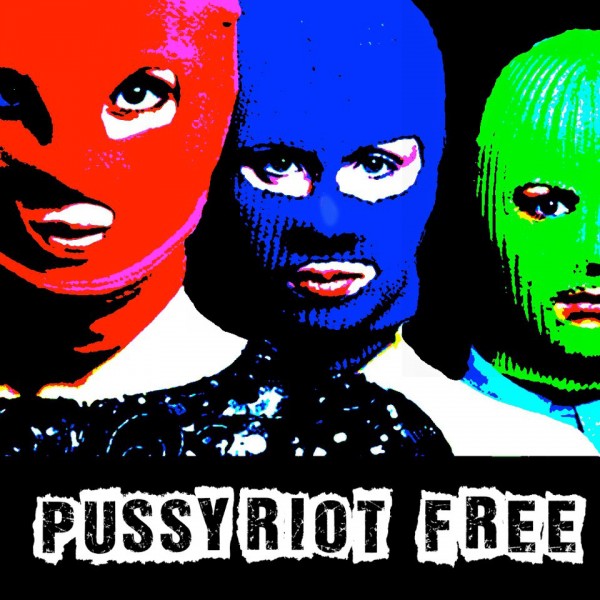 In an obvious and naked bid to burnish his public image in regards to human rights in Russia, President Putin is freeing prisoners of conscience ahead of the Sochi Winter Olympics. Despite the obviousness of Putin's political motives, the release of Pussy Riot band members Maria Alyokhina and Nadezhda Tolokonnikova is especially welcome. The two women were sentenced, along with Yekaterina Samutsevich (released earlier) to two years in a Siberian penal colony for the charge of "hooliganism."
Their crime as explained on Wikipedia:
On February 21, 2012, as part of a protest movement against the re-election of Vladimir Putin, five women from the group entered the Cathedral of Christ the Savior of the Russian Orthodox Church in Moscow. There was no church service in session at the time, and only a few people were in the cathedral. Removing their winter clothes, they put on colorful balaclavas, walked up the steps leading to the altar, and began to jump around, punching the air. After less than a minute, they were escorted outside the building by guards. Film of the performance was later combined with footage shot at a different church, identified by Russian Orthodox Church spokesman Vsevolod Chaplin as the Epiphany Cathedral in Yelokhovo, to create a video clip for the song, which they entitled "Punk Prayer: Mother of God Drive Putin Away".
Pussy Riot's action was clearly an act of political protest. The church was not vandalized or in any way defiled, but the women were charged with "premeditated hooliganism performed by an organized group of people motivated by religious hatred or hostility." Of course, what the group was protesting was not religion per se, but the growing and unhealthy relationship between Russian Orthodox Patriarch Kirill I and President Vladimir Putin, or as we may say here in the United States, between church and state.
Though these events happened half a world away, and RI Future is a blog dedicated to events and issues of concern to Rhode Island progressives, there is a connection:
Amnesty International Rhode Island is holding its annual write-a-thon on Sunday, December 29th at the First Unitarian Church on Benefit St in Providence, and all are invited to come by, grab a snack, and write some letters on behalf of  prisoners of conscience from all over the world. Write a letter, save a life.
It is only by calling attention to human rights violations around the world that we can shame intolerant governments into doing the right thing and release prisoners of conscience and those held illegally by governments who are over reaching their authority. Putin reacted to this kind of international pressure when he realized that Russia's high profile hosting of the Winter Olympics was being tarnished by his country's recent actions regarding human rights.
Of course, little has actually changed in Russia. Though prisoners continue to be released, Russia still has atrocious laws on the books regarding free speech, free assembly and an especially pernicious law against LGBTQ persons publicly expressing themselves. This new intolerance, which seems a reinvention of the Soviet-era police state, is being contested by brave activists like the women of Pussy Riot, and they deserve our support.
I hope to see you all at the Write-a-thon.
Fighting for international human rights in Rhode Island

,