The four women of the Sidewalk Seven who were arrested on May 16 in Washington, DC, for blocking the entrance to the underground garage of the building housing the Federal Energy Regulatory Commission (FERC) will be arraigned in Superior Court on Thursday, June 9.  The four are Claude Guillemard, of Baltimore, MD,  Ellen Taylor of Washington, DC, Linda Reik of Upper Delaware River, NY; and Melinda Tuhus of New Haven, CT.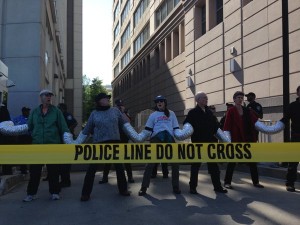 The arrests happened on the first day of the Rubber Stamp Rebellion, a week of action protesting FERC's endless stream of approvals of the fracked-gas projects that plague the nation. FERC's projects, accepted with nary a whimper of Rhode Island's congressional delegation,  have gained special notoriety in Rhode Island with Inverenergy's planned gigawatt power plant in Burrillville and National Grid's proposed gas liquefaction facility in Fields Point, Providence.
Explaining why he had participated in the blockade, Peter Nightingale, a member of Fossil Free Rhode Island and a URI physics professor, stated that he helped block one of the driveways leading to a FERC parking garage as an act of civil resistance and a symbolic attempt to stop what he calls a crime in progress:
 Our government no longer serves "the common benefit, protection, and security, of the whole community."  [See article 10 of the New Hampshire Constitution, the Right of Revolution.]  As trustee of the environment, government is delinquent in its fiduciary duty to preserve a habitable climate for present and future generations.  The pretense that the Paris Agreement of 2015 can be implemented by expanding the fracked-gas infrastructure here and abroad is an act of ecocidal recklessness."
An employee of the United States Attorney's Office for the District of Columbia wrote: "I cannot find Peter Nightingale, Claude Guillemard, Don Weightman, or Clarke Herbert in the system."   This sound like perfect case of gender bias, except that Claude Guillemard happens to be a woman.  She once was lost but now she's been found.
Attorney Mark Goldstone, a First Amendment lawyer who regularly defends political protestors—includingDouglas Hughes, the postal worker who landed a gyrocopter on a White House lawn—explained  that if a case is "not papered," the government has decided not to go forward with the charge. This does not guarantee that they could not paper it later, but, as Goldstone added, he has never seen this happen in his 30 years of experience.