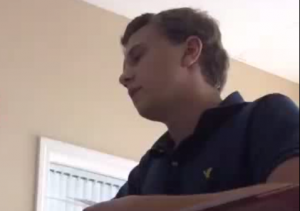 WPRI has been particularly tough on Congressman David Cicilline so far this campaign season, but recently the TV station has spread around its journalistic efforts to his opponents as well.
First, there was Anthony Gemma, Cicilline's opponent in the Democratic Primary. Despite trumpeting the need to create more jobs here, it turns out the Gemma campaign does some of its business with Massachusetts businesses rather than ones here in Rhode Island. Someone should tell Gemma that the world's best jobs plan, let alone his, isn't going to bolster the economy if we don't spend our money here.
Then, a Brendan Doherty suppoter got caught – on video, I might add – trying to spy on Cicilline. The young man called and asked for some campaign information. Unfortunately, he called from Doherty headquarters so Cicilline staffers knew to get him on film when he arrived. Here's the video:
Worst part is that the kid got suspended from the campaign for a few days, as if he went rogue and the campaign didn't know he was going over there. That's almost as far fetched as Gemma's jobs plan.