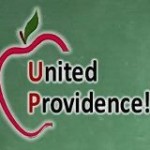 .United Providence! (UP!) is a new "nonprofit education management organization designed to manage the turnaround process in a cluster of Providence's lowest performing schools." It is a "first of its kind" collaboration between the Providence Teacher's Union (PTU) and the Providence Public School District (PPSD).
The low performing schools chosen for the new program include Carl G. Lauro Elementary School, Gilbert Stuart Middle School and Dr. Jorge Alvarez High School. Representatives from each of the schools were on hand yesterday for a "Launch Breakfast" at the Rhode Island Convention Center.
The breakfast introduced Providence to Dr. Sheri Miller-Williams, who will be leading the newly created effort. Miller-Williams brought together an impressive array of nationally recognized educators to serve on the board of UP!, including Jo Anderson, senior advisor to the Secretary of Education Arne Duncan.
The idea of empowering educators to innovate within the schools is a powerful one. My son attended Hope High School here in Providence, graduating in 2010. He participated in the walkout precipitated when Superintendent Tom Brady arbitrarily changed the schedule from four 90 minute blocks to six periods like all the other schools.
I watched as that school, where the kids were taking ownership and the teachers were actually being allowed to teach, went from the promise of something new and exciting and innovative and educational to just another struggling city high school because of the bad decision of one short-sighted superintendent. The students sued, and won. But the school still has six periods to this day. Winning in court meant nothing because the school was already compromised, and the kids involved had graduated.
Asking around at the conference, I got mixed ideas on the way people saw UP! working. Would this be like the experiment at Hope High School, I asked? I got answers ranging from a very enthusiastic "yes" to a an almost scared and hushed "oh, no." In fact, no one really has a strong idea of where this collaboration will lead. Dr. Miller-Williams compared it to building an airplane while in flight. Furthermore, the Launch Breakfast for UP! was a positive and upbeat event and no one attending was dumb enough to risk losing their job by expressing anything like doubt.
The big question, the one the speakers hinted at but would not quite address directly, was the impact the national "Race to the Top" policy instituted by President Obama and overseen by Secretary Duncan would have on UP! Key to the evaluative process under Race to the Top is the controversial policy of using high stakes testing to determine which schools are doing well and which schools are failing our students.
The fact is that high stakes testing does nothing to tell us about how schools are performing and in fact is doing terrific harm to our schools, students, teachers and educational system. Check out Collateral Damage: How High Stakes Testing Corrupts America's Schools (2007) for an exhaustive and detailed analysis. Still, despite the growing mountain of evidence that high stakes testing is hurting our schools, it is still the law of the land.
UP!, if it is to work, is going to need time to make the changes in schools needed to improve the quality of education. High stakes standardized testing could threaten to destroy whatever innovation might be developed. If the schools can not get their test scores up, which is for some reason the only way we rate our schools, then money and resources can dry up quickly, forcing the schools to corporatize rather than innovate.
Arne Duncan, who canceled his appearance at the last minute but still managed to appear by phone, voiced enthusiastic support for UP! When asked by a Providence teacher about the effect of violence and poverty in our schools on student's ability to compete in a high stakes testing environment, Duncan avoided the meat of her question and instead mouthed empty platitudes about how every child in America should be safe from violence and fear. Nice words, but what Department of Education policies are dealing with extreme poverty and wealth inequality? Besides, the question was really about high stakes testing, but Duncan dodged that one.
What Arne Duncan could do is back away from the policies that make modern education a pressure cooker for teachers and students by eliminating the high stakes testing requirement. What Dr. Miller-Williams could do is act as a barrier between the Department of Education and those schools in her charge, giving those schools the time and space needed to innovate.
Pasi Sahlberg, in his book Finnish Lessons describes the Finnish education model, which has helped to produce one of the best and most highly rated school systems in the world and concentrates its efforts on:
1. maintaining "high confidence in teachers and principals as high professionals" 2. "encouraging teachers and students to try new ideas and approaches, in other words, to put curiosity, imagination and creativity at the heart of learning 3. understanding that the "purpose of teaching and learning is to pursue happiness of learning and cultivating development of whole child."
UP! seems pointed in the right direction in this regard. Going to the teachers, and working with them as knowledgeable professionals who might know a thing or two about teaching, encourages the possibility of innovative educational ideas.
On the other hand, Sahlberg also warns about the Global Education Reform Movement, what he calls GERM, and the five policies that will almost certainly doom school system reform:
1. Standardization 2. Focus on Core Subjects 3. The search for low risk ways to reach learning goals 4. Use of corporate management models 5. Test-based accountability policies
Providence is currently exploring all five of these terrible ideas. Only time will tell if UP! is up to the task.
Give 'United Providence' Time To Succeed

,