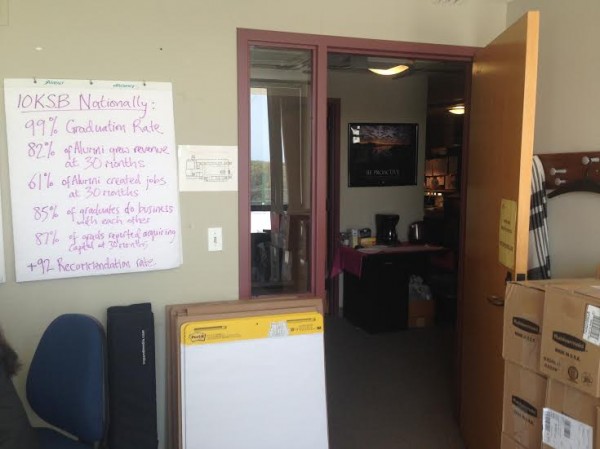 The "great vampire squid wrapped around the face of humanity" is ensconced at the Community College of Rhode Island.
Goldman Sachs, the too-big-too-fail Wall Street bank that crashed the American economy in 2008, has funded two state employees through its partnership with Governor Gina Raimondo on its 10,000 Small Businesses RI program. They share an office at CCRI's Knight Campus in Warwick.
Goldman's 10,000 Small Businesses program offers classes, coaching and loans to small businesses. The investment bank has offered the program in other parts of the country but this is the first time is has partnered with a state government.
The office is in the Center for Workforce and Community Engagement on the 4th floor, with the high school equivalency test, English as Second Language offices. Contrary to a GoLocalProv report, the Goldman program will not move into space on the first floor being vacated by a Providence Center daycare program, according to Alix Ogden, chief of staff to new CCRI President Meghan Hughes. But Ogden did say 10,000 Small Businesses will soon expand on the fourth floor.
The employees work for the state – they have "@ccri.edu" email addresses and receive state paychecks. But the money for their paychecks is funded from a grant from the Goldman Sachs Foundation, Ogden said.
Executive Director Karina Holyoak Wood declined to comment. She initially agreed to be interviewed on Monday but didn't keep the appointment. She formally declined to comment on Thursday after stalling for several days. Holyoak Wood, who previously worked for Tobacco Free RI, was hired in March and is paid $85,000 a year. A second employee was hired in April for $45,000 annually. Three more employees are expected to be hired this year and will earn approximately $50,000 each, Ogden said.
The five employees are responsible for organizing and administering the program that will serve up to 40 small business owners. Ogden said participants are referred to as "scholars." The first class – or "cohort" as t is called – starts in September. Ogden said 100 people have applied. There are additional classes slated for 2017. Rhode Island School of Design will be involved in some way, said Ogden, but the program is not sure exactly how yet.
"We're talking to RISD about how they will be included," Ogden said. "They will have a role."
The 10,000 Small Businesses RI program is funded by a grant from the Goldman Sachs Foundation, Ogden said. It is a one year $1 million grant that can be renewed four times, Ogden said. She anticipates Goldman Sachs will fund the program for all five years. Ogden said she did not have a detailed breakdown of how the $1 million grant will be spent.
"I'm focused on that I think this will be such a good thing for Rhode Island," she said.
Goldman Sachs buys office, staff at CCRI

,