Mark your calendars! An event May 16 will address the shameful state of public education that is due not to bad teachers and low expectations, but to a decades long, relentless regime of standardized curricula and incessant testing in order to measure, rank, and sort children for a new world order amenable to manipulation by corporate interests.
The struggle to wrestle power out of the hands of the billionaire technocrats who have a dystopian vision for public schools is ongoing and gaining steam. Those who are determined to transform and democratize public education for the benefit of our children, our schools, our communities, and our democracy have a herculean task ahead of us.
The maxim attributed to Gandhi comes to mind: First they ignore you, then they laugh at you, then they fight you, and then you win! True public education advocates are now engaged in fighting against the faux-reformers, those who use their money, power, and influence to make the lives of children and teachers miserable in the name of lifting all boats and preparing all children for their slot in the glorious technocratic future – a future that exacerbates the obscene wealth inequality in the United States of America.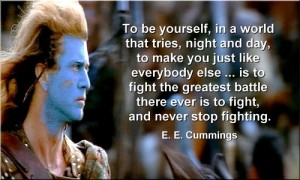 Rhode Island as well as states across the country have been witnessing the awakening of the group of people who have the most personal stake in the outcome of public education—the parents. As parents become informed about the true nature of the education reforms of the Common Core State (sic) [Stealth] Standards and the incessant testing (PARCC here in RI, SBAC in other states), as they see the poor quality of the class work and home assignments that their children come home with, compared to the enriching materials and activities their older children had in the past, they know something is terribly amiss. Opting their children out of the PARCC is the first and best strategy for now to bring attention to the flaws with the Common Core/PARCC agenda, as well as to deny the state and numerous ed tech companies the data that would flow from this test.
Now that Opting Out/Refusing is catching on, thanks to the tremendous work of many education activists doing the research and informing the public, the federal DoE and RIDE are scratching their heads and figuring out vindictive ways to squash this rebellion that after all, upsets their apple cart and stands to lose money for global corporations like Pear$on. Imagine—threatening to lower the rating of a school because more than 5% of the parents determine that the PARCC is counter-productive for their children and Opt them out. These parents should be applauded for engaging in their child's education and using the means at their disposal to make a strong statement about a policy that is wrong for children, wrong for teachers, and wrong for communities.
The Coalition to Defend Public Education (Providence) and the SouthEast MA/RI Coalition to Save Our Schools will be hosting an education activist summit: Transforming and Democratizing Public Education on May 16 at the Southside Cultural Center, 393 Broad Street in Providence from 10 a.m. to 2 p.m. (lunch included!) There will be no expert presentations, though the activists in attendance will come with tremendous expertise and drive. This event will begin with a sharing of struggles and successes among parent, teacher, and community activists discussing the following topics:
Testing refusal – empowering curriculum
Parent Organizing/ Communities of Color
Charter schools
Teachers unions
Student organizing
Higher education
The afternoon session will focus on a vision for the future—brainstorming on strategies to transform and democratize our public education system so that it truly provides the well-rounded, well-researched curriculum and inspiring environment that our children so desperately need and deserve, and our democracy depends upon. Come join us and be a part of those bravely standing up to the corporate education juggernaut that reduces and dehumanizes unique human beings to a single digit.
How to end corporate education reform

,