Rhode Island is going to debate using the NECAP test as a graduation requirement with or without RIDE and the Board of Education. Not only are activists hosting a panel with a RIDE staffer on Wednesday, but three state legislators are holding a similar forum on Monday night.
Representatives Maria Cimini, Providence, Frank Ferri, Cranston and Teresa Tanzi, South Kingstown are hosting an event called: "Great Futures for ALL Rhode Island Students: Keeping the Conversation Going"
"Join us for a community discussion of your concerns about using the NECAP as a graduation requirement and how we can work together to build a better future for Rhode Island students," says a Facebook event.  And here's a flyer: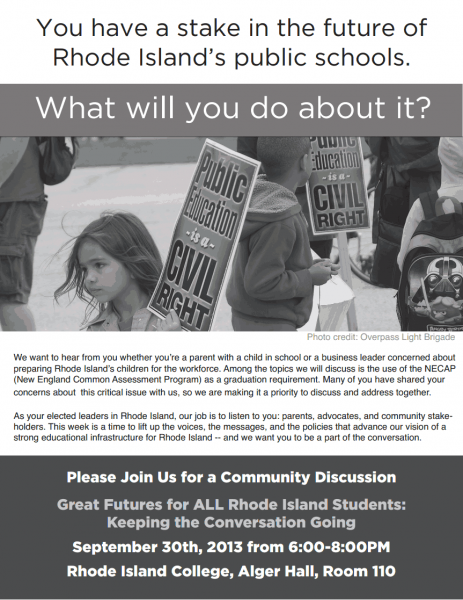 On Wednesday, an event at Warwick City Hall pits one member of the Department of Education with five people generally opposed to the NECAPs or high stakes testing. It's great that RIDE is sending someone but their role is actually to facilitate this kind of debate about their policies.
Other than that, this has pretty much been RIDE's stock response to the NECAP debate: