Freshman Sen. Gayle Goldin (Democrat, District 3 – Providence) won national praise for Rhode Island this session when she helped shepherd through legislation that expanded the state's Temporary Disability Insurance to cover workers who need to take time to care for a new addition to the family or a seriously ill relative. Recently, she was kind enough to sit down with RI Future for a wide-ranging interview. The following transcript has been lightly edited for written media.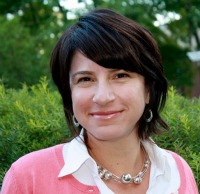 RI Future: When you ran for office, your letter says you have a "commitment to the economic sustainability of families." What does "economic sustainability" look like for you?
Gayle Goldin: For me it's that everybody earns a living wage, that we recognize that working families are critical to keeping our economy going, and so those are things that are important to me, like paid family leave, like raising the minimum wage, insuring that we have full access to healthcare. All those thing that we have that I think help families be able to meet their own family needs and live in a society where our economy can flourish because of it.
RIF: Given your background with immigration, what do you think of the state's current immigration policy, and are you happy with this?
GG: Immigration policy is primarily federal law, so I don't know that there's anything really going on on the state level at this moment. Is there something in particular that you were thinking about?
RIF: Well, allowing undocumented immigrants to get in-state rates in schools, and some people believe that if you've arrived here without documents you shouldn't be allowed to access any kind of services.
GG: As I tell people, my parents moved to the United States when I was 7-and-a-half; they did so legally and I was in the country legally; but certainly as a 7-and-a-half-year old, I had absolutely no control over where I was moving or whether or not that was legal. I think it is really short-sighted if we do not ensure that people who moved here as children don't have access to things like higher education merely because of a decision their parents made that they have no control over.
RIF: So you're coming up on your second year of office, what do you think your biggest priority is going to be?
GG: I introduced legislation to repeal Voter ID, which while I had a very successful year my first term I was not successful in moving Voter ID. So I'll be focusing on that again, and certainly I feel the 2014 deadline both because the law will roll into full effect in the election, and the election cycle itself will hopefully put the emphasis in getting that piece of legislation addressed, in some way. So that's a real priority for me. There's a variety of other things I've been researching and exploring about different functions within the state government that I would like to improve. I serve on the Health committee, and one of the things we oversee is DCYF [the Department of Children, Youth & Families]. I have been involved in child welfare policy and adoption rights for many years, so just trying to see if there are any gaps in DCYF that can be addressed through legislation or statutory change are some of the things that I'm looking at. And there are other pieces that are still in the research point,  but I absolutely do want to go back to repealing Voter ID. Also, I think the health exchange will probably be something that the General Assembly will continue to have conversations about as it gets rolled out.
RIF: If you could make one piece of legislation happen on Day 1 of 2014, what would it be?
GG: That's a good question… I really do think it would be addressing our Voter ID law. I feel that is critically important to the way we view people's rights on voting and our access to voting, so I'd really like to make sure that gets done… Nothing really gets done in a day in the General Assembly. [Laughs]
Read Part 1 of this interview here. Part 3 will be published tomorrow.