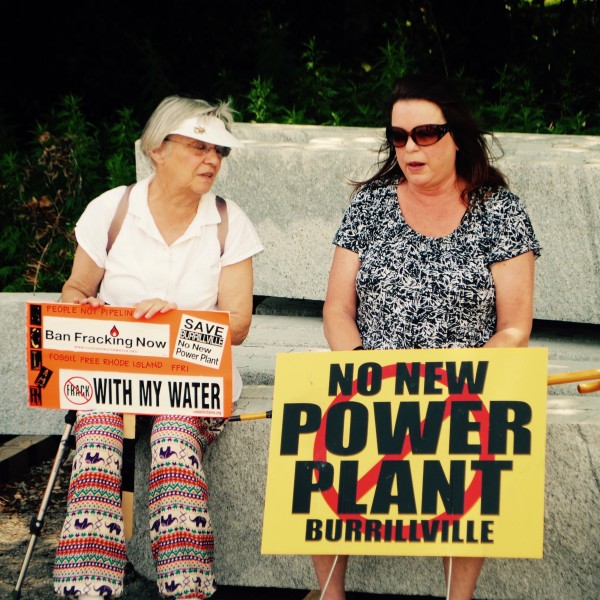 Invenergy's proposed $700 million fracked gas and diesel oil burning power plant in Burrillville is running into some water problems. The Pascoag Utility District, at a special meeting called by board chair Al Palmisciano for August 19, will decide for or against allowing Invenergy to access well 3A, which is closed by court order due to MTBE contamination.
A decision in Invenergy's favor is by no means certain. In fact, Invenergy already seems to be searching for other options. On August 9 the Harrisville Fire District is taking up Invenergy's, "inquiry as to whether and under what conditions Harrisville would be willing to consider developing and constructing a well and distribution means to supply water to the power plant at Invenergy's expense." Invenergy is also asking Harrisville to "authorize such additional pump and water testing and legal research as is necessary to determine the yield, viability and estimated cost of developing a well on the Victory Highway site and constructing an appropriate means of distribution at Invenergy's expense."
The Harrisville meeting is taking place at a time that overlaps with the RI Department of Health (RIDOH)'s public commentary hearing at the Burrillville High School, part of the Energy Facilities Siting Board (EFSB)'s process of determining the fate of the power plant. This will have the effect of dividing the potential audience, but over the last few weeks water has become a very big issue in northern Rhode Island because the area is experiencing a severe drought, with rainfall five inches below average.
Aquifers and wells are feeling the effect of the lack of rainfall. Invenergy plans to use an average of 100,000 gallons of water a day to cool their plant, and almost a million gallons a day when burning oil. This is in addition to the 4 million gallons of water used to cool Burillville's existing power plant, Ocean State Power. This strain on the area's water supply may be lead to even more severe water shortages in the area. At the very least, it will forestall the possibility of future growth in the area.
Even if both Harrisville and Pascoag deny Invenergy their water, it doesn't necessarily put an end to the company's plans. Water could be imported from over state lines, and of course there is always the option used by Ocean State Power. According to a video by Paul Roselli of the Burrillville Land Trust and Burrillville resident Norman Derjarlais, the company seems to be trucking in the water from Western Sand & Gravel, a nearby superfund site, in leaking trucks. From 1975-1979 about 12 acres of this area was used for the disposal of liquid waste, including chemicals and septic waste.
You can watch the video below.
Invenergy power plant facing water problems

,