Capitalism is exactly as moral as the actors exchanging goods. That's why, in my opinion, it's more important to ask why the Charles Koch wants to sponsor a talk on the morality of capitalism at Providence College than it is to wonder whether or not capitalism is good, bad or indifferent.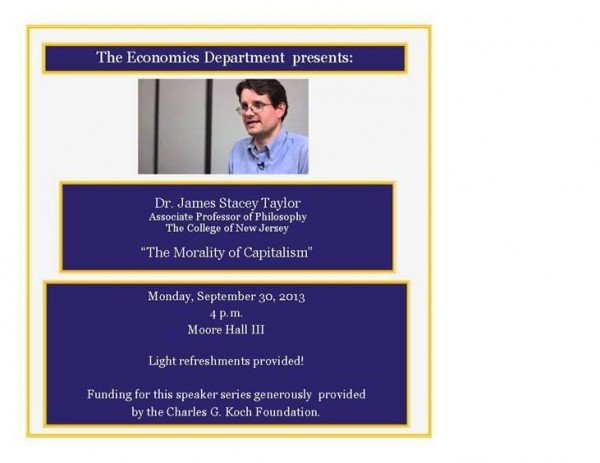 James Stacey Taylor is best known for writing the book "Stakes and Kidneys: Why markets in human organs are morally imperative" in which he argues that people ought to be able to sell their non-essential living organs if they see fit. He does not argue for an unregulated kidney market, as would the Koch brothers.
This piece from the Washington Post pretty well explains why conservatives such as Charles Koch are beginning to beg this question:
…more recently, we've seen another side of free markets: stagnant incomes, gaping inequality, a string of crippling financial crises and 20-somethings still living in their parents' basements. These realities are forcing free-market advocates and their allies in the Republican Party to pursue a new strategy. Instead of arguing that free markets are good for you, they're saying that they're good — mounting a moral defense of free-market capitalism.
It's long but well-worth reading. Including gems like this:
A useful debate about the morality of capitalism must get beyond libertarian nostrums that greed is good, what's mine is mine and whatever the market produces is fair. It should also acknowledge that there is no moral imperative to redistribute income and opportunity until everyone has secured a berth in a middle class free from economic worries. If our moral obligation is to provide everyone with a reasonable shot at economic success within a market system that, by its nature, thrives on unequal outcomes, then we ought to ask not just whether government is doing too much or too little, but whether it is doing the right things.
And for contrast, here's how NOT to engage with conservatives on the morality of capitalism.