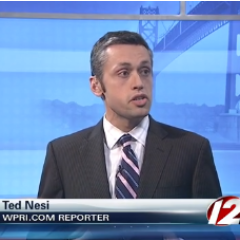 Ted Nesi is easily the most knowledgeable and well-respected local reporter on the pension beat. As such, it's not easy to call him out for what I think is some bias in his pension reporting as of late.
Today on Twitter I asked him why he didn't include either Angel Taveras or Ernie Almonte's perspective when he reported that Gina Raimondo, Gordon Fox and EngageRI all disagree with the governor's tack.
Yes, Raimondo, Fox and EngageRI are important players in this debate. But so are Almonte and Taveras, both of who had publicly weighed in defending Chafee by the time Nesi posted on the issue. WPRO had Almonte on Wednesday morning and RI Public Radio had a post on Monday saying Taveras thought, "the state should seek a settlement to a challenge by a series of unions to last year's pension overhaul," wrote Ian Donnis for RIPR.
Here's the exchange we had on Twitter:
Is Ted Nesi Biased on Pension Reform?

,