Sources from within the Rhode Island Green Party have indicated that Dr. Jill Stein, presumptive nominee for the party's presidential bid in November, is going to be visiting Rhode Island on July 20. Time and locations of various events are still being planned.
"I'm voting Jill Stein because she's our best hope for peace and climate stabilization," said Nadya Bedford, of Bristol. "Jill Stein understands how important it is to keep fossil fuels in the ground, both to end wars for oil and to keep our major cities dry. She's willing to stand up to corrupt financiers, ensure access to education, forgive student debt, and empower oppressed groups. She's condemned torture, cluster bombs, and aggressive occupation efforts. A Jill Stein presidency is only part of a larger effort, and it's up to all of us who can to make things better, but with Stein as president, and congresspeople like her, we can pivot from the country with the strongest military to the country with the strongest human rights record."
To volunteer with the Stein campaign, e-mail the Rhode Island Green Party at StateCommittee@rigreens.org! And be sure to ask about signing a petition for your town to get Dr. Stein on the ballot!

Progressives in the Ocean State should take note of the overwhelming primary results. The results were astounding. After the state was proclaimed "Clinton Country", the results were:
Total Democratic Votes: 122,458
Bernie Sanders: 66,993
Hillary Clinton: 52,749
Uncommitted: 1,662
Write-in: 673
Total Republican Votes: 61,614
Donald Trump: 39,221
John Kasich: 14,963
Ted Cruz: 6,416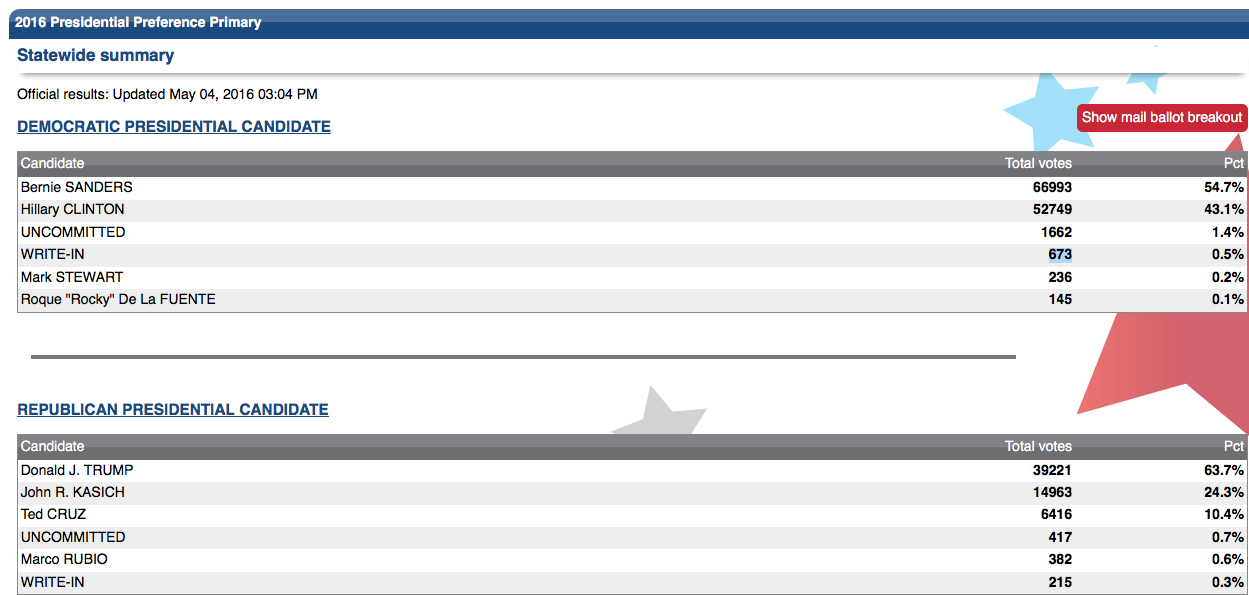 There are two points that seem obvious from these results.
First, by a significant margin, the winners of both races have, in their own way, based their campaigns this year around a populist rebellion against neoliberal economic policies that have defined consensus politics for the last quarter century. Since the end of the Cold War, both political parties have embraced these economic doctrines as an agenda while creating political differences based around identity as opposed to class politics. The Rhode Island primary was a massive referendum against this economic system. This is part of a wider global trend we are seeing now. Right populism emphasizes demonization of migrant and refugee populations while Left populism emphasizes class struggle. The instance of Trump and Sanders is roughly akin to what happened in Greece with the rise of Syriza, a social democratic party, and the openly neo-fascist Golden Dawn, though Trump is closer to the center than his Greek counterparts.
Second, the margin of difference is so significant that there is no way Rhode Island would be a swing state. Every politician in the Ocean State understands very well that every unionized worker is worth three votes and they keep that as a holy tenet of the State House, held higher than anything else. Within the next few months we will see a Democratic Party pandering to the union vote in this state with a combination of fear tactics about helping to elect the Donald (even though that flies in the face of everything we learned in 2000 about the electoral college) and pillow talk about how wonderful a Clinton administration will be for unions (even though organized labor suffered significant defeats under Bubba, epitomized in NAFTA, and will continue to do so under Hillary, who has been a strong advocate of the job-killing Trans-Pacific Partnership deal, describing it as a "gold standard" before the Sanders campaign forced her to pivot to the left).
This is simply phooey, Rhode Island only went for Republicans in the two Eisenhower elections (back when the GOP was anti-Communist but pro-union), the 1972 Nixon re-election (the last time a Republican made an honest bid for the union vote), and the 1984 Reagan re-election (when a majority of the country thought that Reagan was managing the economy better than what the Democrats were offering).
In other words, a vote for Stein, whose campaign features as a central plank the roll-out of a pro-union Green New Deal to rebuild and repurpose our national infrastructure on a basis of renewable as opposed to fossil fuels, would send a clear message to the Rhode Island Democratic Party who is in charge in this state and what they expect, making Nicholas Mattiello tremble with fear. The 52,749 people who voted for Clinton are almost assured to stay with her and a section of the Sanders vote will go to her also. But it seems obvious, with the level of disgust at the Clinton machine on the grassroots level compounding daily due to the corrupt nature of the primary process as well as the preposterous handling of the e-mail scandal that there is a safe way to express this populist progressive sentiment in the ballot box come November even if Sanders is not the nominee.
Jill Stein to visit Rhode Island

,