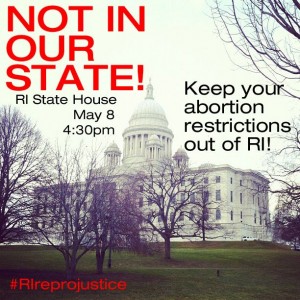 The same radical anti-abortion agenda coming out of state legislatures from Arkansas to North Dakota is headed straight for Rhode Island. Today 5 dangerous abortion restriction bills will be heard at the State House that would work to insert politicians between a woman and her doctor – and would bring the same extreme legislation that has threatened a woman's right to choose in statehouses across the country.
The bills proposed would work to mandate a woman undergo an ultrasound prior to having an abortion, create 24 hour wait periods prior to an abortion, create additional laws around late term abortions and establish "fetal personhood." The reality of these bills would establish invasive, unnecessary barriers to service and turn healthcare in a political tool. Make no mistake about it, these bills have one target: to prevent women from accessing their right to choose what to do with their own bodies in the state of Rhode Island.
Real Problems Deserve Real Solutions
Reducing the number of unintended pregnancies deserves real and thoughtful solutions. If the politicians proposing and supporting these kinds of bills were really working to help reduce the number of unintended pregnancies each year in Rhode Island, they would turn their attention to the expansion of Family Planning under the Medicaid program. Currently, Rhode Island covers family planning services for Medicaid recipients who deliver babies, for only two years post-partum. That means that after that time, women are dropped from the program and lose access to basic reproductive health services, including annual well woman exams, Pap tests, breast exams, testing for sexually transmitted infections, and yes – contraception, which would help space their families and work to prevent unintended pregnancies.
Rhode Island already gets a D+ grade from NARAL and has some of the most stringent abortion laws on the books in New England. We need to turn out focus toward investing in family planning programs that not only work to reduce unintended pregnancy but save the state $4 for every $1 invested.  Today, we have a chance to raise our voices against five dangerous bills that actively seek to stand between a woman, her physician and her personal medical decisions. We NEED your help to fill the hearing room, to testify as a Rhode Island voter – and your presence as a supporter of reproductive justice. If you can't join us for the hearing, contact your state legislators and let them know that is enough is enough. Egregious bills like these don't belong in Rhode Island and together we can stand up and say Not in Our State! Help us tell lawmakers that Rhode Island cares about reproductive justice and we won't stand for radical abortion restrictions in the Ocean State.
Keep abortion restrictions out of Rhode Island

,