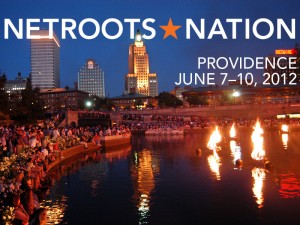 In just a few short weeks Netroots Nation will be coming to Providence. Today we announced our latest keynote session focused on the economy.
The 99 percent have taken to the streets in unprecedented numbers yet we haven't seen this outcry reflected in the policies in Washington, where conventional wisdom lands somewhere between the status quo and austerity. The middle class continues to shrink and the poor get poorer, while the wealthiest continue to prosper and skirt the rules.
Perhaps no one breaks these issues down better than Nobel Prize-winner Paul Krugman. That's why we're thrilled to have him anchoring an economic keynote on Saturday morning, along with the AFL-CIO's Rich Trumka; the Agenda Project's Erica Payne; and Ai-jen Poo, National Domestic Workers Alliance director and one of Time's 2012 100 Most Influential People in the World.
If you haven't yet registered for Netroots Nation 2012, click here to do it now. (Enter the discount code "LOCAL" to get a special local rate available only to Rhode Islanders)
During this session moderated by Demos' Heather McGhee, speakers will discuss what our economic outlook looks like and get us thinking about what our progressive vision for it should be. How do we free ourselves from what Krugman says can only be called a depression? And what role do we as activists, bloggers and labor organizers play in ensuring economic success and equality?
In addition to these speakers, you'll also hear from progressive champions like Elizabeth Warren, Van Jones and Bill McKibben; candidates including Rep. Tammy Baldwin, Eric Greigo and Lori Saldana; and tons of our elected leaders: NY Attorney General Eric Schneiderman, Sen. Sheldon Whitehouse, Sen. Jack Reed, Sen. Sherrod Brown, Sen. Jeff Merkley, Sen. Ben Cardin, Rep. Mazie Hirono, Rep. Keith Ellison, Rep. Luis Gutierrez, Rep. David Cicilline and more.
Be sure to check out our full agenda, now updated with times, to see the panels, trainings and other events on tap.
See you in a couple of weeks!
P.S. Paul Krugman will be signing his new book, "End This Depression Now", immediately following the keynote in our exhibit hall author signing area.