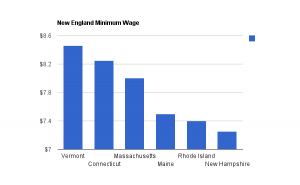 The House passed a bill today that would raise the minimum wage in Rhode Island by $.35 to $7.75 an hour. Because the proposal was already approved by the Senate, the bill now goes to the Gov. Chafee's desk before it can take effect. If the governor signs it into law, it would be the first increase to the minimum wage in five years.
Rep. David Bennett, a populist Democrat from Warwick who sponsored the bill, was quick to point out that it isn't necessarily progressive legislation just because it will help low-wage workers.
"This minimum wage hike, which is a five percent increase over the current $7.40, still represents a significant lag over the increase in inflation during the past five years," he said in a statement. "But an increase is absolutely necessary to help the people at the bottom of the pay scale, who are doing vital jobs for our economy and are struggling to make ends meet."
While legislators deserve credit for passing the increase, Rhode Island's minimum wage would still be the third lowest in New England. Currently, only New Hampshire has a lower minimum wage at $7.25 and the proposed increase would vault RI ahead of Maine, which has a minimum wage of $7.50. Vermont has the highest minimum wage in New England at $8.46. Massachusetts in $8 an hour and Connecticut is $8.25. Nationally, Rhode Island would be about in the middle of the pack.
All House Republicans voted against the bill.
General Assembly Approves Minimum Wage Increase

,