Over the last weekend, two local third parties had the opportunity to hear from their presidential candidates and showcase these candidates to a wider public. The Green Party of Rhode Island held their spring meeting to cast their nominations for a variety of candidates while Pat Ford and Tony Jones of The Coalition Radio Show fielded a call from Gov. Gary Johnson, their preference in the Libertarian Party.
The Green meeting took place at Warwick Public Library and was composed of under 20 people. However, these were veteran members who are a dedicated cadre, ready to build their party and take on new members. But what impressed me most was the presence of quite a few Bernie Sanders supporters who are deeply involved in his campaign and very interested in going Green if Clinton is the Democratic Party nominee, including one school committee member and Sanders campaign activist Aaron Jaehnig. These are folks who are totally disgusted with the Democrats and refuse to be shepherded to the Secretary's campaign, something that goes far beyond the Jackson-Kucinich-Dean debacles. The key moment was when Jill Stein addressed the Party via web video, including in her comments high praise for the residents of Burrillville.
Though comments were heard from other candidates, the Greens chose to cast all their support behind Stein and support her nomination at their forthcoming convention.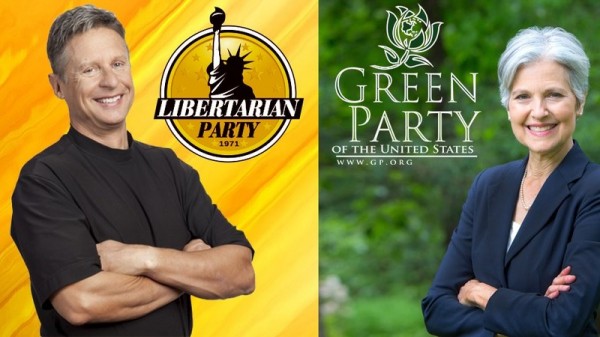 Over on the radio, Johnson delivered the following pitch for his candidacy after having recently picked up former Massachusetts Governor Bill Weld as a running mate. I personally am uncertain of Johnson and worry that the GOP, by having figures like Mary Matalin register as Libertarians, could hijack this effort, turning him into an atypical neoliberal with some libertine tinge to his character. But nonetheless there is potential developing for the Libertarians in the wake of Trump, who Johnson repudiated in a fashion I found reassuring. Ford called him an old-fashioned Liberal, which is technically true. However, the problem I have with Libertarians remains the fact that they refuse to acknowledge that global capitalism functions in a macro form of the old cartel systems, with the financial institutions (Goldman Sachs, Citi, et. al.) taking the role of the controlling family. Corporate capitalism is simply a machine that turns governments against their citizens. Markets, meaning the series of business transactions that take place between a vegetable grower and his customer at a farmer's market, are one thing and I totally support them being freed from overbearing and unfair taxation that is not placed against the big guys in the same manner, but Libertarians need to create a bit of distinction between Farmer Joe and General Electric.
The Greens and Libertarians have, on a national level, been engaged in a lawsuit against the Commission on Presidential Debates, the duopoly-owned outfit that took the control of presidential debates from the League of Women Voters and turned the affair into the political equivalent of a Kenny G concert. Also recently there have been discussions amongst various third-partiers of creating Vote Pacts so to build their bases. These developments could be called the augury of a new united front from below that could fundamentally change our democracy.
The united front from below is an old Communist tactic wherein they formed coalitions with Liberals and Social Democrats to take on fascism in Europe. The Libertarians are the actual Liberals in our society while the Greens are the genuine Social Democrats. This coalition could hypothetically extend beyond the election. For example, if you ask a Libertarian small business owner if they hate Wal-Mart, you get an affirmative, something you also get from pro-union Greens. This could serve as the basis for a boycott movement that could assert a level of economic democracy going far beyond the marking of a ballot, especially in the Ocean State, where all one must say is "Ann and Hope" to win public support. The boycott demands would be simple, Wal-Mart must allow a union drive in their stores. That would of course lead to them closing up ASAP, meaning local businesses would see a huge level of growth.
And such a development would be a massive benefit for the masses, far beyond any candidate's election.