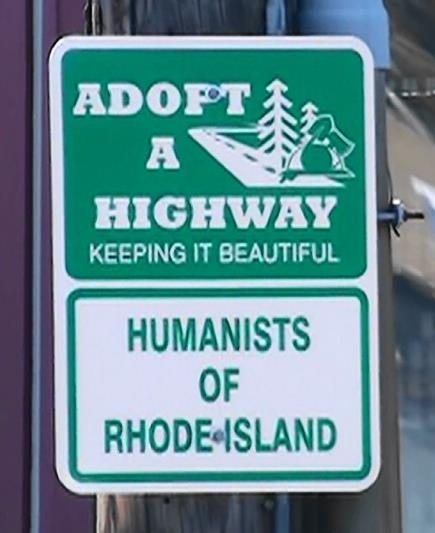 Humanists and atheists took a lot of heat during the Cranston School Committee meetings to discuss the prayer banner at Cranston High School West and after the subsequent ruling that declared the prayer banner illegal and mandated its removal. Add to that the controversy over the cross in Woonsocket, the cross on the median strip in Providence and the annual "War on Christmas" waged locally by John DePetro, and you can see that those who don't believe in god and actively work for a truly secular state that respects freedom of conscience and religion for everyone are too often vilified.
The Humanists of Rhode Island, from its inception, has always focused on community service work. In the beginning this had nothing to do with our public image. Our service work was seen as an outgrowth of our commitment to our values: We care about this world and the people in it. Thus, in addition to our monthly builds at Habitat for Humanity (usually on the second Saturday of every month) HRI has also committed itself to four highway clean-up efforts a year.
On Sunday, April 28th, HRI will begin our second year by conducting their first Adopt-A-Highway Cleanup for 2013.
When signing up for the RI State DOT Adopt-A-Highway program, a group is given several areas of the state to choose from. Our group quickly zeroed in on a section of Park Avenue in Cranston. This particular stretch of road passes Cranston High School East, Cranston City Hall, and the Cranston School Department.
In choosing this two mile patch of highway our goal was to demonstrate to those in the City of Cranston upset over the removal of the prayer banner that Humanists and atheists are not out to destroy their way of life: We are as vested in our world and humanity's wellness as anyone. We are your friends and neighbors and brothers and sisters and we want to live in a cleaner, more beautiful world with you.
So, anyone who might want to help us out with this effort is welcome to join us at 10:00am in the parking lot behind Cranston City Hall at 869 Park Avenue.  Wear sturdy, comfortable shoes. Reflective vests and gloves will be provided by the RIDOT. Ages 11 and up, minors should be accompanied by responsible adults. Afterwards, we'll figure out a place for brunch.
We hope to see you there.
Local humanists adopt road in Cranston

,