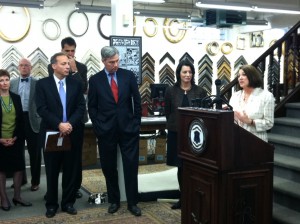 Lt. Governor Elizabeth Roberts will update the Rhode Island Health Care Exchange Commission on what a Supreme Court decision on President Obama's universal health care plan could mean for the Ocean State. And her special guest at the meeting with be Sen. Sheldon Whitehouse.
"We'll definitely have a brief discussion about it," she said. "I'm sure people will ask the Senator about it."
Roberts, who has led the effort in Rhode Island to implement Obama's Affordable Care Act, said this state's model Health Benefits Exchange will likely survive regardless of what the Supreme Court decides Obamacare.
"If a mandate is ruled unconstitutional we still very much have a path here in Rhode Island," she said, adding that even if insurance reforms are struck down by the court, "those are mostly existing consumer protections under state law."
Because Rhode Island has a guaranteed issue law on the books means no one can be denied access to the Exchange.
If the Medicaid expansion is ruled unconstitutional, on the other hand, "that means we are where we were a few years ago and we wouldn't be able to move as quickly towards universal coverage."
Roberts doesn't think that will happen though.
"I'm not a constitutional lawyer," she said. "But I'm very optimistic those will remain in place."
So long as the Medicare subsidies remain in place, Roberts said, "we won't have to compel people into the marketplace." States that don't have guaranteed health insurance, such as the case across the South and Southwest would have a harder time because insurance companies can legally deny people coverage there.
Rhode Island is leading the nation in implementation of the Affordable Care Act. It's the first and only state to receive a second grant from the federal government, according to Governing Magazine, worth $58.5 million.
In total, Rhode Island has procured about $65 million from ACA funds, and Roberts said she believes that money is safe.
"We should be able to help people regardless of how the Supreme Court rules," she said.
Much of it will be used to create the database and web portal for the Health Exchange, she said.
Whitehouse, will be there to discuss a report he released last week entitled, "Health Care Delivery System Reform and The Patient Protection & Affordable Care Act," highlighting progress in this area and the potential for improving patient care and lowering costs.
The Health Insurance Exchange meets Thursday morning at 8:30 at Alger Hall, Room 110, at Rhode Island College.