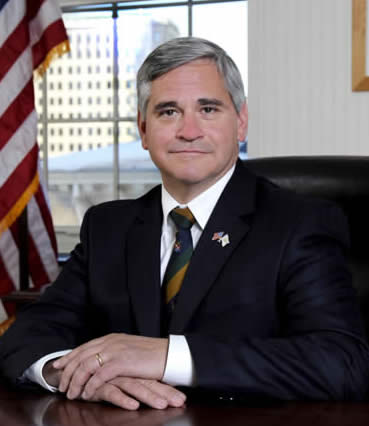 Atty. Gen. Kilmartn's recent proposal that vehicular homicide should bring a minimum 30-year sentence strikes me as a bad idea.
People who kill with their cars while intoxicated deserve severe punishment, but that doesn't necessarily mean that higher sentencing guidelines are what will work to prevent deaths. If tomorrow it was announced that I could watch a drunk driver be dangled by his or her ankles from the top of the Superman Building, I'd be out at Kennedy Plaza with my lawn chair to see the debacle. As cathartic as that might be, though, there are better ways to approach the issue.
The Ocean State was a leader in ending the death penalty, and we should recognize as a culture that severe punishment is less important than consistent punishment.
Rhode Island suffers from a serious DUI problem. It's ahead of its New England peers–in the sense of more drunk driving, not better policy–and needs desperately to do something about the problem. But the U.S. approach of using prison to deal with any social problem is a failed one that we should reconsider. The places that lead on road safety don't share our views about imprisonment.
In the Netherlands, which boasts some of the safest streets in the world, prison is a last resort. The Netherlands impounds people's cars much more easily and for much longer periods of time than the U.S. The response to driver offenses is swift and sure in the Netherlands, to be sure: people lose their licenses for much less than vehicular homicide there. What would be considered baseline Rhode Island driving technique–speeding and failing to yield to pedestrians–is considered a serious breech of public safety in the Netherlands and not tolerated. People are arrested for such behavior, but from there the focus is less on competing for longer and longer sentences than it is on keeping irresponsible people away from cars, fining them for their behavior, and moving on.
The Netherlands has such a low imprisonment rate that it's renting out empty cells to inmates from other Scandinavian countries.
Motor vehicle fatalities declined from 65 in 2013 to 52 in 2014, all time low but still 52 fatalities too many.

— AG Kilmartin (@AGKilmartin) March 11, 2015
I have nothing but respect for Atty. Gen. Kilmartin's proposal. In Rhode Island, many of our lawmakers treat DUIs as a joke. So much is this the case that we made it to Last Week Tonight for the flippant and disrespectful behavior of State Senators Ciccone and Ruggiero related to a drunk driving and shoplifting incident:
What should Rhode Island do about drunk or otherwise impaired driving?
Cars should be impounded with a very streamlined process. Driving is a privilege. You abuse it, you lose it. And that doesn't mean just for homicide, but for offenses like speeding, distracted driving, and failing to yield to vulnerable users. One of the things that strikes me as odd about the 30-year minimum is that it is tied to the act of actually killing someone–a sort of flip of the coin. More modest but more consistent punishments for the act of bad driving itself–with or without killing someone–is more important. A person who doesn't already consider the 15-year minimum enough to deter their behavior isn't going to be further deterred by an extra 15 years. The odds have to be increased that a person will be caught, rather than focusing on extreme punishments for the rare cases where someone is caught.
Drivers should be able to lose their licenses very easily, and for very long-term periods of time. A second moving violation (after first receiving a ticket) should result in temporary license suspension of one year. A homicide or serious injury should result in permanent license revocation. Any incident of intoxicated driving–with or without injury–should also result in permanent loss of one's license. Failing to submit to a breath test should mean permanent loss of one's license.
The state should use suspended sentencing as a means to enforce behavior of convicts, but should focus on placing irresponsible drivers in jobs and treatment and keeping them away from cars. A focus that is less about prison should not mean that people who are irresponsible can't get prison time. It just should mean that it isn't our go-to, even for vehicular homicide. In many European countries, even first degree murder is treated with lighter sentences than what the Atty. Gen. is suggesting for vehicular homicide, and while I agree with him that driving drunk is a conscious choice on par with other types of murder, I think we should think carefully about the fact that these other countries are succeeding in every measure of crime prevention that we're failing at. It's not about being soft, it's about being effective.
The state should make it illegal to operate a bar in a driver-dominated location. I hope that Rhode Island MADD will join the call to fix this design problem. The places which are most successful at combating drunk driving are those which focus on density, transit, walking, and biking as primary means of moving around. Bars do not belong on the sides of fast roads or in low density areas unless they are providing a specific non-motorized way of getting around. Rural or exurban bars can meet this requirement by helping to fund shuttles or safe biking routes for their patrons–this should be a requirement of any liquor license. Municipalities should start placing parking maximums instead of parking minimums on bars–because only a few designated drivers should be expected to arrive by car. In the Netherlands, people drink or even use decriminalized marijuana and then go home safely, because the Dutch don't build their environments with cars as the first and last option–they're just as obnoxious as any bar-goer in Warwick but no one is hurt. The owners of bars may respond that providing non-car transportation costs too much in their locations–if that is the case, then they should relocate to denser areas where provision of other options is easier. No exceptions.
RIPTA should also be receiving additional funding to extend its hours late into the night the way the MBTA, MTA, and SEPTA do.
I've reported in the past on a tip from a RIDOT safety worker who told me that many municipalities do a poor job of enforcing DUI laws because of the amount of time it takes to book offenders for this offense–five hours. The perception in many locations is that violent crime is a higher concern, but cars actually kill far more people than guns in the United States. The Atty. Gen. should work with communities to find out how this institutionalized bias away from DUI enforcement can be fixed.
We live in a culture that sees prison as the first solution to any criminal problem. Prison is a tool, and should be available as an option for offenders who cannot be controlled by other means. But the design of our communities, the consistency of our enforcement, the standards we have for our drivers' licenses, and other factors are far more important than blustering over large sentences. I encourage Atty. Gen. Kilmartin to take a different route to solving this serious problem.
~~~~