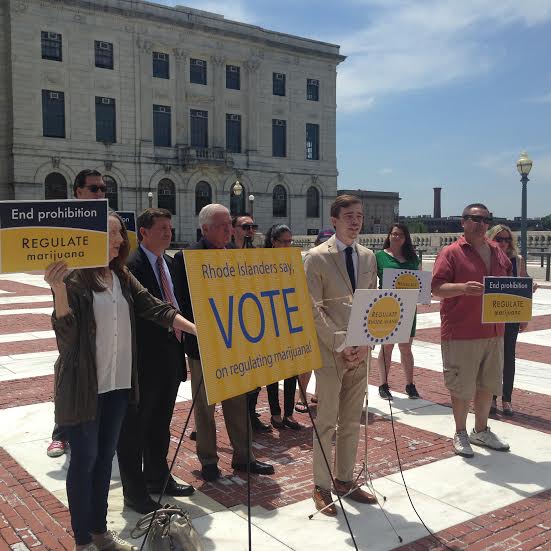 It's been five years since legislation was introduced in the Rhode Island General Assembly to legalize marijuana. Since then Colorado and Washington have shown legalization has negligible effects on teen use and tremendous benefits on taxes. And even as Massachusetts seems poised to beat the Ocean State to the more than $100 million in new revenue all but guaranteed to the first New England state to end prohibition, most Rhode Islanders still don't even know where their legislators stand on this issue.
That's because House Speaker Nick Mattiello and Senate President Teresa Paiva Weed haven't allowed a vote on the five-year-old bill that has proven safe and profitable elsewhere, advocates said at a State House event Thursday.
"We believe that by not allowing a vote the speaker and the Senate president are implicitly endorsing the failed status quo," said Jared Moffat, an organizer for Regulate Rhode Island, the local group calling attention to marijuana legalization's potential to increase revenue and freedom while decreasing teen use and mass incarceration.
Regulate Rhode Island delivered a petition with more than 1,300 signatures on it to the legislative leaders. And making the case for legalizing marijuana at a subsequent press event were the doctor and lawyer who co-chair the organization.
Andrew Horwitz is a criminal defense attorney and law professor at Roger Williams Univeristy.
Dr. James Crowley is a former president of the Rhode Island Medical Society.
Mattiello, Paiva Weed prevent vote on legalizing marijuana

,