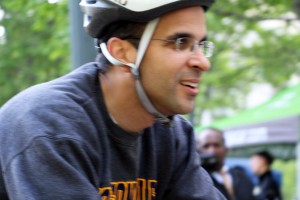 Yes, I was smiling when I read the news that Angel Taveras had called for a People's Pledge in the RI Democratic Primary for Governor. Common Cause RI pointed to the study by Common Cause MA that the 2012 People's Pledge for the race between Elizabeth Warren and Scott Brown reduced the amount of influence of outside groups in the election.
Then, I read Gina Raimondo's response: we've already been attacked by special interests, donate the full amount AFSCME paid for the Seidle Report. I may have boiled it down a bit.
My initial thought was "savvy move, Raimondo, savvy move." Except when I pause to think about it, it's not really. Taveras has already been attacked as well; notably in totally unfocused ones by the American LeadHERship PAC that couldn't decided whether the mayor was a political insider or a political novice. Taveras could've opened his push for a People's Pledge by suggesting that would be a place to start for Raimondo, but he didn't. Which is rather congenial, considering those were nutty political attacks.
It appears that the harrowing few weeks of negative press from progressive left media like Salon and Rolling Stone and the center-leftish The New York Times on pension reform (something which Raimondo could've foreseen when she started accepting awards from right-wing think tanks) have raised hackles in the Treasurer's camp (after decades of ignoring them, suddenly every Rhode Islander is an expert on investing pensions).
Asking Taveras to donate money for something AFSCME is independently angry about makes as much sense as Taveras suggesting Raimondo donate the People's Pledge amount of the attacks on him over the Davey Lopes pool. When you make decisions that are part of your office, criticism of you by the people effected is expected (and justified). Just because you're about the engage in political campaigning doesn't mean you get to wave a wand and say "politically-motivated, don't have to listen." You take it, even if it sucks.
Political observers are free to read the tea leaves as they will. I'm sure pro-Raimondo partisans will read this as a political ploy on the Mayor's part, attempting to handicap the Raimondo campaign (who seems most likely to benefit from outside spending). Pro-Taveras partisans will read this as unease on the part of the Treasurer, who even with a nearly 3:1 money advantage may be unsure if she can win a Democratic primary likely to tilt to the left without outside help.
I'm sure people think I'm marked in the Taveras camp because I write for RI Future and other reasons. But I want to be clear. I don't see much, policy-wise, that differentiates the two candidates. I think Gov. Raimondo will make policy choices that a Gov. Taveras would also make, and vice versa. I wasn't just calling for a People's Pledge in this post last month, I was calling for a substantive (and civil) debate on issues. For one thing, I'd like for the RI Democratic Party to have a primary that wasn't just a referendum on whether the 2011 pension reform is popular among Democratic-affiliated voters and Democratic primary-voting unaffiliateds.
What it appears to me is that there seems to be a personal animus between the candidates and their camps, which is more likely to scuttle anything than other issues. Which is why I fully expect this primary to devolve, though I sincerely wish it wouldn't. Rhode Islanders deserve a good campaign focused on things more than bloody socks and telling the President to shove it.
Perhaps whoever triumphs in the Democratic primary will find candidates more receptive in the general election to a People's Pledge, if this one sinks (Common Cause RI has already called for a general election People's Pledge). Or maybe we'll have to rely on down-ticket races to act as pathfinders for the big races and establish a tradition of People's Pledges. As Rhode Islanders well know, an established tradition can be a powerful tool in enforcing compliance in a practice.
P.S. There's also a media issue here, which is that discussion of the People's Pledge gives the media a chance to remind us about the ol' campaign finance scoreboard and tell us what it told us earlier this month. Guess what folks, we're not voting on whether we prefer the $2 million candidate or the $690K candidate! Cash on hand does not equal a good governor.