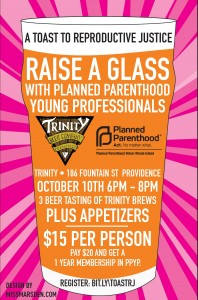 The Planned Parenthood Young Professionals (PPYP) team has made great strides to build our presence in the state over the last year.Led by Planned Parenthood Votes! RI advocacy staff, six local volunteers are spearheading a team to promote the importance of reproductive health and education around the state. Unlike many other young professionals groups in and around the region, PPYP strives to further an incredibly important mission. We seek to "advocate for the mission of Planned Parenthood of Southern New England (PPSNE) and Planned Parenthood Votes! RI through volunteerism, outreach, education and social functions." PPYP promotes the work of Planned Parenthood to the Rhode Island community and government and builds networks of young supporters throughout the state.
 Over the last year we've hosted several activities with the goal of building a regular space for us to interact, build our work and recruit new voices to weigh in on the challenges and opportunities facing reproductive rights and health in Rhode Island. A sampling of this year's events include:
"Sex Trivia on Tap" night at Café Tazza in Providence
"How to Have the TALK with Your Legislator" in Rhode Island
 "Cover Your Cannoli" lobby day at the RI State house
"Drinking Liberally" with the Young Democrats of RI
We are excited to partner with Trinity Brew House to Toast Reproductive Justice on Thursday, October 10, from 6 p.m. to 8 p.m. Enjoy a beer tasting of Trinity Brews, plus appetizers for just $15. You may become an annual PPYP member and enjoy the perks of planning and attending other member only events.
We hope you'll join us on October 10 to raise a glass to reproductive justice, meet new people and learn about a growing organization focused on volunteerism, outreach and education through political and social functions.
Jennifer Peters, a lifelong resident of Rhode Island, currently works as a legal assistant to a bankruptcy lawyer in Providence, is chair-elect of the Project Committee for the Junior League of Rhode Island and a volunteer at the Women's Center of Rhode Island. She is a member of Planned Parenthood and the ACLU. She lives in Bristol with her husband.
Meet the Young Pros of Planned Parenthood

,