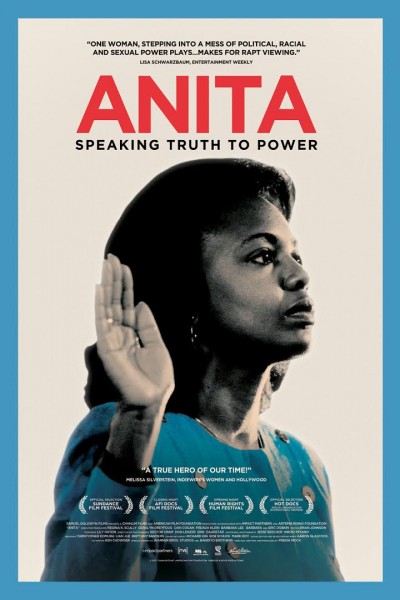 Freida Lee Mock's ANITA (2013) is a trip back in time to one of the most important moments in the advancement of feminist issues in that past quarter century and a memento of that time the Culture Wars came to the Senate. After years of the name 'Anita Hill' being a tagline, we get the inside story of a woman who dared to buck a tremendously powerful trend and ended up sparking a dialogue that continues to this day.
THURSDAY: RINOW SCREENS 'ANITA' AT CABLE CAR CINEMA
Today Clarence Thomas is that strange man on the Supreme Court who has remained almost totally mute for his entire career, never asking questions of either lawyer arguing a case before him and delivering opinions that seem to be in competition with Scalia for the most outrageous. Whether it has been helping get George W. Bush into the White House or opposing gay marriage, Thomas is a monolith whose status as a black man has befuddled most African Americans disadvantaged by his rulings.
However, back when he was nominated by George H.W. Bush to replace Thurgood Marshall, the first black Justice to sit on the Court, the media storm that erupted over his selection was intense. Towards the end of Thomas's confirmation hearings, an FBI interview with Prof. Anita Hill was leaked. Hill, then a law professor at University of Oklahoma College of Law, alleged that he had sexually harassed her multiple times in his capacity as her boss at the Equal Employment Opportunity Commission, the government body that is responsible for law regarding equity in the workplace, including gender/sex discrimination and harassment.
In October 1991, Hill went before the Senate Judiciary Committee and testified to what happened. The Committee, made up of all white men who had no idea how to handle issues around sexual harassment, fell all over each other and made complete fools of themselves. Joe Biden, the chairman, failed to call other women to testify about Thomas's similar behavior towards them, resulting in a case of he said/she said instead of the exposure of a pattern of misconduct. Orrin Hatch took his chance to speak as an opportunity to grill the witness and try to impugn her testimony. Ted Kennedy, who had previously scuttled the nomination of Robert Bork with great aplomb, looked like a deer caught in headlights in a time when he was still featured in the tabloids for boozing and womanizing. And as the finishing touch, they let Thomas's rebuttal descend into a self-important instance of pulling the race card unto the point they simply had to confirm him. As a result, we have been stuck with him ever since.
But the film does not end there. Instead, it follows Hill back to Oklahoma, where she was continually harassed by right wing nuts. At one point they tried to get her fired despite the fact she was tenured, then they turned around and went after first her dean and then the law school itself. Eventually she moved on to Brandeis, where she has been teaching ever since, while the unwanted 15 minutes of fame ended up becoming Hill's second calling, leading her to become a longtime speaker and advocate for women's rights and workplace discrimination.
Ultimately, this film is a good one. The first half, based around Hill's memories of the two decades passed Culture War event, is well-developed and has moments not unlike the classic Emile de Antonio film about the Army-McCarthy hearings POINT OF ORDER. However, the final segment, having to do with her modern life, is just a tad too much of a happy ending for me. Ever since Michael Moore hit it big with BOWLING FOR COLUMBINE and FAHRENHEIT 9/11, documentaries have become a major force in the film market. But part of that has entailed the institutionalization of a type of three act structure, concluding with a neat bow and a happy ending, that I simply don't like.
Sexual violence against women and girls is a serious topic that continues to affect our culture, which itself is called 'rape culture' for a reason. In many ways, life for professional women has improved tremendously, including in the realm of sexual harassment policies. But for poor and underprivileged women, things are far from ideal. Just this month we have found ourselves yet again dealing with another cheap attempt by the anti-choice contingent to defund Planned Parenthood. A woman's access to abortion and low-cost obstetric services are severely hindered by the legacy of two Bush terms.
This is a serious problem, one that we need to be concerned about, and I don't like happy endings being propped up despite those facts. When Emile de Antonio made his film about Vietnam, IN THE YEAR OF THE PIG (1968), he didn't close it out with a smile and a nod, he left an open, hanging question for the audience that practically dared them to do something about our policies in Southeast Asia. With this movie, the viewer can walk out of the theater feeling like this is a finished problem, which it is not.