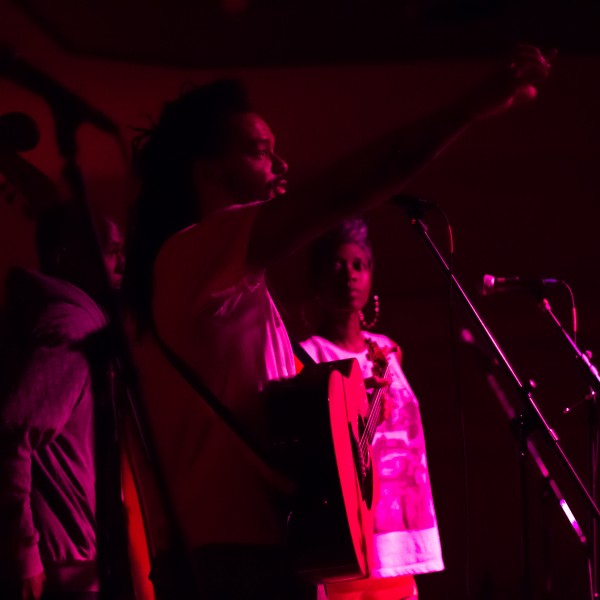 At the end of June, Boo City, the Downtown Boys, and the What Cheer Brigade headlined a free concert to drum up local support for the Community Safety Act (CSA), a proposed ordinance that would address racial profiling and community policing concerns.
Between sets, poetry readings were provided by Muggs Fogarty and Vatic, who are headed to Oakland to represent Providence in the National Poetry Slam.
Finally, education on the CSA was presented by Victoria Ruiz, Peter Glantz, and Providence City Councilwoman MaryKay Harris.
In a night filled with speakers, Andrew Moon Bain, the guitar player for Boo City, expressed the underlying theme with one sentence – "this is a hand-me-down struggle".
The Community Safety Act was originally introduced to the Providence City Council on Juneteenth, 2014. Juneteenth (June 19th) marks the day in 1865 where Union troops landed in Galveston, Texas, and enforced the Emancipation Proclamation signed by Abraham Lincoln, two and a half years prior. However, the bill did not pass in 2014. The event encouraged citizens to contact City Councilors and push for passage of the ordinance when it is reintroduced.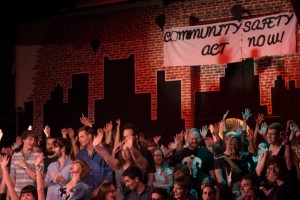 The Community Safety Act builds upon years of legislation introduced by activists. First, it defines the rights of citizens recording police activity. The Act also provides clearly defined criminal penalties for officers who violate these rights. Citizens have the option of pursuing civil litigation.
Current policy on citizen recording is detailed in a Providence Police Department memo, effective October 5th, 2014, outlining policies to protect citizens recording or photographing police activity. This memo took effect one month after John Prince was harassed while recording police activity. The officers tackled Mr. Prince, confiscating his phone and deleted the recording before throwing the phone into the bushes. While October's memo defines a protocol that officers must follow while engaging citizens who are recording police activity, the memo does not detail a framework for enforcement of the policy. Mr. Prince filed a complaint through the Internal Affairs department. Seven months after the incident, Internal Affairs ruled that two out of three officers involved had acted in error. Both officers were required to undergo retraining, One officer, acting as supervisor during the incident, was suspended without pay. It is not clear whether the investigation process considered excessive force used when Mr. Prince was tackled.
The October memo states that recording of police activity is protected under First Amendment rights. However, the memo contains multiple restrictions on citizen's recording. Most concerning are restrictions based upon officer judgement, including "reasonable distance" and "impeding the movement of emergency equipment and personnel or the flow of vehicular or pedestrian traffic." In an urban environment with narrow sidewalks and streets, there is considerable interpretation involved in enforcing these policies.
The memo states that officers should speak with the citizen engaged in recording before making an arrest, if the officer deems the citizen is not acting in compliance with Department regulations. However, the officer is not required to engage in preliminary actions before making the arrest, including:
Informing the individual that they are engaged in prohibited activity
Providing the individual with information on acceptable alternatives, including, but not limited to, suggesting alternative locations from which the individual may continue to record.
Notifying and receiving instructions from a supervisor.
It should be noted that the supervisor involved in the Prince case was found responsible during the course of the complaint investigation.
The memo does not define a standard for enforcement of citizens' rights, including penalties faced by officers who violate these rights. The exclusive remedy currently available to aggrieved citizens is through the Providence Police complaint procedure, in which the citizen presents their concerns through the internal affairs process. Under the terms of the Community Safety Act, violation of recording rights would become a criminal charge, tried in a court. The criminal penalties under the Community Safety Act stand in stark contrast to the one day suspension received by one of three officers involved in the case of John Prince.
The Community Safety Act seeks to protect citizens from police surveillance. The Providence Police Department has drawn condemnation from the ACLU for intrusive surveillance of public protests. Police have been using surveillance since Occupy Providence, and with little documentation, may have recorded demonstrations prior to actions associated with the Occupy movement. The Department has stated that the videos are recorded "in the event we need it for evidence." However, the ACLU's report found that many of these recordings were made with cell phones. The ownership of these phones was not disclosed. The Community Safety Act contains specific provisions banning use of personally-owned phones or other equipment to make recordings used by police. If video was to be used as evidence, or potential evidence, then an adequate chain of custody must be enforced, something that is difficult (if not impossible) with personally-owned equipment.
The ACLU raised concerns about the intent of video recording. While it was claimed that the video was intended for use as evidence, the ACLU noted that the majority of the video clips recorded were only a few seconds long. Many of the clips released to the ACLU consisted of facial close-ups, often close-up recordings of citizens or journalists photographing or recording at the demonstrations. After reviewing the pool of 143 released video clips, it was found that the longest clips recorded were under four and a half minutes long. These short video clips leave little context available for use as evidence.
The ACLU has documented recording of demonstrations dating back to 2013. This program of recording includes the November 25th, 2015 #BlackLivesMatter march in which seven arrests were made. However, only two of these arrests were recorded, with the ACLU's investigators noting that the capture of these two arrests by police appeared to be an accident. The arrest of Steven Roberts drew allegations of excessive force, though officer Robert Heaton was cleared of this charge after an investigation by internal affairs. It was not made clear whether the arrest of Mr. Roberts was recorded by police, though video recordings of the arrest were made by citizens. The fact that five out of seven arrests made by police were not recorded casts doubt on the effectiveness of this surveillance program at gathering evidence.
The Community Safety Act enhances data collected during a traffic stop or other detention of an individual. Currently effective racial profiling law (the Racial Profiling Prevention Act of 2004) alludes to data on racial profiling, but does not elaborate on the exact fields to collect, deferring definition of the recorded fields to the Rhode Island Justice Commission. The CSA requires the officer to record perceived race, gender, and approximate age. However, the CSA also requires the officer to identify the actions taken during the stop, including whether or not a search was conducted, and whether contraband was discovered.
The CSA also addresses concerns of terminology. Many racial profiling prevention programs require officers to document whether a search was conducted. However, the specific use of the term "search", as opposed to "frisk", may result in under-recording of the true number of searches conducted, as "frisk" is strictly limited to a pat-down search for weapons.
One of the most important fields recorded would be the probable cause considered for the stop. While public perception of racial profiling incidents may be centered around undue traffic stops, racial profiling is an LGBT issue. Trans women of color struggle with being profiled as sex workers, and are then stopped and questioned by police. Suspicion of engaging in prostitution provides pretext of a suspected crime.
Three years after the Racial Profiling Prevention Act of 2004 was passed, the ACLU published a comprehensive report on the enduring reality of racial profiling in Rhode Island. The report noted that considerable data had been collected even prior to the passage of 2004's legislation, and that data collection alone was not sufficient to end racial profiling.
Under current legislation, analysis of data collected remains the sole responsibility of law enforcement. The CSA would create a Community Safety Review Board. This board would represent both local community organizations and city officials, with one member named by DARE (Direct Action for Right and Equality), one member by PrYSM (Providence Youth and Student Movement), one member by the Olneyville Neighborhood Association, one member by the City Council President, and one member by the Mayor.
This creates a framework by which community members are directly engaged with law enforcement. Racial justice activists have been developing legislation to address racial profiling since 1999 (when the first Racial Profiling Prevention Act was introduced to the General Assembly). However, community members have little ground to interact with law enforcement under the current system. Under the CSA, data collected regarding racial, gender, and age distributions of stops and searches would be presented directly to this Review Board, instead of being analyzed within the structure of law enforcement. The Review Board would give Providence citizens, particularly citizens of color and immigrants, an organized voice to demand accountability from police. Though the Racial Profiling Prevention Act was passed eleven years ago, racial disparity in discretionary searches is actually increasing, rather than decreasing. The growing magnitude of this disparity pays testament to the need for direct and organized citizen oversight and review of policing in Providence.
Furthermore, the Act would give community groups direction in how funds marked for community activities, such as recreation centers and youth organizations, are disbursed. The Department has received funding for violence prevention programs, however, many of these programs focus on increased patrols and other forms of policing. Many police organizations have identified targeted, heavy patrols as a tactic against gangs. However, targeted patrols and police presence in schools serves to criminalize youth of color, with youth of color facing considerable psychological stress associated with profiling.
Community groups such as PrYSM seek to organize youth of color. Giving community organizations budgetary control would allow community members to direct funds to recreation services and youth organizations. In a 2010 forum on policing, the Providence Police identified "partnerships and multi-agency initiatives" as effective at reducing gang violence. The creation of the Community Safety Review Board would facilitate inter-agency collaboration between community organizations, police, and the Providence City Council.
However, current efforts against gang violence create situations that may lead to racial profiling. The Providence Police is known to operate a gang database. The program has been publicly acknowledged via a publicly-available department memo, dated March 22nd, 2004. The memo describes the formation of the database, and states that approximately fifty gangs and and over five hundred individuals are named within the list, though it is not clear whether these are known or merely suspected gang members. The current program is defined only by the Department's memo, with no judicial oversight. Standards for induction into the database are unclear, and there is no process to appeal this identification as a gang member. The stated objective of the program is to "significantly increase this database through the vast amount of information that is possessed by the officers". 
With a program of targeted policing, increased patrol detail, and law enforcement presence in schools, there are many opportunities for at-risk youth to suffer the effects of profiling, especially if members are added based upon suspicion of gang activity. Advances in technology have given police officers access to databases and other information systems while on patrol. Membership in a gang database could provide probable cause for a search. This is another factor that could influence the excessive discretionary search rate experienced by people of color. Integration of law enforcement into the public school environment provides another route by which law enforcement programs (such as the gang list) may affect a student's education.
The Community Safety Act defines a legal basis for the gang list program. In this case, criteria for entry are defined. The CSA prohibits list entry solely based upon racial or ethnic identity or an individual's social association factors. These measures protect youth from potential profiling based upon suspected gang member status, decreasing mental health burdens on at-risk youth. The CSA also requires notification of individuals placed on a gang list, who are then given a chance to appeal this status.
Finally, the CSA addresses the problems faced by individuals with limited English proficiency (LEP). Inability to communicate effectively with an officer can lead to unnecessary escalation of the situation. Across the nation, multiple incidents have shown that lack of effective communication between police and citizens, including mental health crises or communication problems can escalate into officer-involved shootings. The CSA ensures that interpreters for languages used within the community will be available in a timely fashion.
The phrase "community safety" is often used to justify increased police presence or capabilities. When the URI campus police were armed, many allusions were made to the safety of students. However, a community facing the effects of racial profiling are not safe. Youth growing up with PTSD resulting from unnecessary and unwarranted searches are not safe. The Community Safety Act provides a balanced interpretation of the phrase, ensuring that the community is collectively empowered to act in its own best interest. Eleven years after the passage of the Racial Profiling Prevention Act, continued data collection shows that reactive policies do not work. The only true guarantee of community safety is a proactive effort of empowered citizens.
Music benefit builds support for Providence Community Safety Act

,