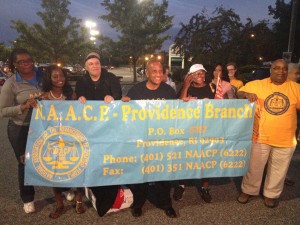 Using the NECAP test as a high stakes graduation requirement has been challenged by students, teachers, parents, education activists and civil libertarians. Now you can add the NAACP to the list as well.
Providence NAACP President Jim Vincent told the Board of Education last night that he, too, is opposed to using this test as a graduation requirement.
In a statement today, he said:
The NAACP Providence Branch supports the NECAP test as a tool to evaluate student performance and progress but it should NOT be used as a graduation requirement. Last year, 40% of Rhode Island and over 60% of Providence 11th graders "failed the test".  These high numbers suggest that there is something deeply wrong with a system which has failed to adequately prepare a significant number of its students after 11 years of schooling.  There are numerous examples of other states with similar demographics whose students perform much better. No remedial or quick fix solutions will address the fundamental problem of a system that needs reform before children can adequately learn.  The NAACP understands the value of a high school diploma and that a student receiving one should at least have minimal English and math skills. For that reason, we are not in favor of social promotions, however, we are also not in favor of penalizing students who have not received a solid educational foundation. In summary, use the NECAP as a tool but not as a requirement.  Spend more time correcting the root cause of our students poor performance and less time creating what would be worse for our students… no high school diploma!