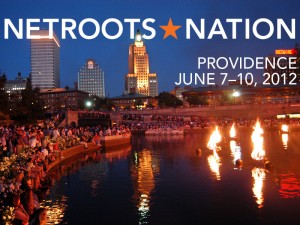 Of course everyone talks about the parties and the networking opportunities, but the real action at Netroots Nation is in the panels and speakers. Each day of the big progressive get together I'll be posting a little bit about some of the panels and speakers I'm looking forward to sitting in on. Look for posts on these throughout the day and for a complete list of all the action, click here.
8:15 a.m. – Morning News Dump with Lizz Winstead, Shannyn Moore and Cliff Schecter: This is the first official event of the conference, and it's being held every morning, so it makes sense to start here …. Netroots bills is as "sorta like 'Morning Joe,' minus the guests who have gotten everything wrong for the past 10 years. Each morning these three will also welcome some of your favorite bloggers and politicians as well to give you a download of the days news before you hit the Netroots ground running."
If you don't know who Lizz Winstead is, read Dan McGowan's profile of her from when he was an RI Futurist.
9:00 a.m. – Data-Driven Design for Progressive Organizations: They can't all be about saving the world, and the first panel I'll be attending is more geared towards making RI Future more useful to you the reader. "We'll share 10 often overlooked web, social media and email metrics you can use to improve your social bottom line (in terms of actions taken, money raised, etc.)."
10:30 a.m. – Beyond Occupy: What Does a New Economic System Look Like?: Okay, Occupy Movement, you got the nation's attention … now what do we do with all that energy? This panel will help us imagine a new economic paradigm. "In this session," according to Netroots, "we will explore how Occupy has changed the game in the fight for economic justice and how progressives might start to invest in earnest in building a real alternative economic and political system that works for us."
Noon – Organizing Tools Shootout: Seems like I'll be able to learn a few new tricks here, too. "Data and online tools are a big part of progressive organizing, and keystones in building from the netroots base out wider into our communities. New tools like LoudSauce, DS Political and POPVOX and many others are the building blocks of the shift from top-down and broadcast models to a distributed, participatory and more deeply democratic future."
2:00 p.m. – Rhode Island Caucus: "Connect with activists in Rhode Island and discuss issues facing the state," is how Netroots describes these sessions designed for people with regional ties to meet up … for us Ocean Staters, we usually do it at the State House before and after the legislative session; today we'll do it at the Convention Center.
3:00 p.m. – Whose Law Is It Anyway? ALEC's Influence on State Legislatures and What We Can Do About It: After all the ALEC reporting we did recently, how could we miss this one. "The American Legislative Exchange Council has been behind virtually every major right-wing state law in the past two years, including union-busting, teacher-bashing, voter suppression, attacks on immigrants, privatizing basic public services and gutting environmental and health regulations. Learn more about ALEC, who backs them and what you can do to stand in their way."
4:00 p.m. – Not sure which one of these I'll hit up, but the titles seem pretty self-explanatory: Social Media Strategy for Advocacy or Investigative Reporting for Bloggers with Joe Conason. Though this one could be fun too: Emerging Movements: The Face of New Progressive Online Communities.
6:00 p.m. – Phew, finally a little break … a dinner reception courtesy of Planned Parenthood.
7:00 p.m. – Opening keynote featuring Eric Schneiderman: "We'll kick off Netroots Nation with an opening keynote from New York's Attorney General and the man the American Prospect calls The Man Banks Fear Most, Eric Schneiderman. Other speakers will include: Providence Mayor Angel Taveras, environmentalist Bill McKibben, Planned Parenthood's Cecile Richards, NEA's Lily Eskelsen, and Congresswoman Tammy Baldwin."
And if I'm still standing after all that, I might just take in some political comedy at 9:15 or the legendary Netroots Karaoke Party, this year sponsored by SEIU and held at The Dorrance starting at 9:30.