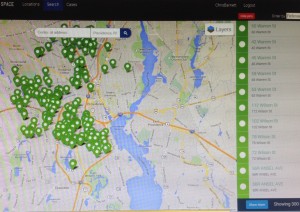 Four municipalities have launched an on-line database of government-owned properties that will enable them to better manage their real estate portfolios, promote transparency by giving the public easy access to the data and jumpstart community redevelopment by making it easier to find properties that need reinvestment.
OpportunitySpace RI includes maps, info about taxes and zoning, key contacts and photos of more than 2,000 local-, state-, federal- and quasi-governmental-agency -owned properties in Central Falls, Cumberland, Pawtucket and Providence. The listings include residential and commercial properties, municipal buildings and vacant lots. In addition, the cities of Central Falls and Providence have also listed hundreds of tax-delinquent properties.
The website also translated the Blackstone River Valley Corridor Plan into a digital interface so that interested developers can see how planned infrastructure investments relate to available parcels.
Municipal leaders believe the website will have many benefits, including generating conversations about publicly owned property.
"Information hubs like Opportunity Space will continue increasing transparency in municipal government and establish competitive processes for developing or selling our city-owned properties," said Central Falls Mayor James Diossa. "By highlighting these properties, Opportunity Space is also empowering our residents to speak up and take ownership of what they want to see in our community."
"Having an open and transparent online clearinghouse of publicly owned parcels will allow for town officials to have quicker and more efficient interactions with developers about possible investments and economic development opportunities that may have been overlooked in the past," said Cumberland Mayor Dan McKee.
"By cooperating with other communities, we can leverage our resources to attract maximum marketing exposure and economic development interest," said Pawtucket Mayor Donald Grebien.
"Marketing available real estate is a key goal of my economic development plan, Putting Providence Back to Work," said Providence Mayor Angel Taveras. "We are pleased to join this effort to create a regional inventory of properties that are available for development. We are working to ensure that when businesses look to invest, opportunities in Providence are at their fingertips."
The website was developed by OpportunitySpace, a technology company based in Boston at the Harvard Innovation Lab. It hopes to add every city and town to the database.
The project was funded by the four municipalities, the Pawtucket Foundation, the Sunlight Foundation and the Rhode Island Foundation.