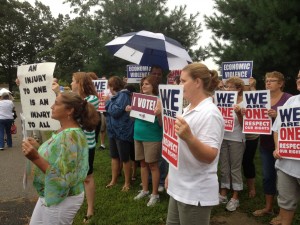 North Kingstown public school employees are planning another picket at the administration building Monday morning to bring attention to the plight of the custodians, whose jobs were outsourced to a private company resulting in drastic pay decreases.
Pat Crowley, an official with the NEA-RI, said it is still unclear whether the picket will turn into a work stoppage. That decision, he said, will be made over the weekend and will depend in part on whether or not the teachers again agree to honor the other employees picket line.
The scheduled first day of the school was canceled in North Kingstown because of a similar action. North Kingstown union officials say the Superintendent Phil Auger canceled school before their formally decided to strike.
In a letter to parents and union members drafted on that scheduled first day of school, Sandy Blankenship, the former president of the NK Educational Support Professionals union, and Nancy Ferencko, the current president, said:
As to the timing of the cancellation of school today, the superintendent suggests that we were attempting to dupe him and he needed to wait until he saw picket signs before calling off school.

Nothing is further from the truth. during negotiations he asked if we were going to go on strike. We told him no such decision had been made.

This morning our folks put up a picket line protesting the treatment of the janitors. There were no strike signs. Some signs we carried spoke to the economic violence visited on the janitors and their families. Others, our demand that the committee respect workers rights.

Without making any effort to ascertain our purpose, but upon seeing the signs, the superintendent jumped the gun and closed schools.

The fact of the matter is we pulled down the line before 7 a.m. – well before the start of school – and told our members to go to work. These are details that are frequently omitted from the media stories and conveniently left out of the superintendent's email.
Union and school officials also differed about how negotiations eventually stalled before school was to start. Union officials said they were willing to keep talks open all night and we told to go home by school officials. School officials say they wanted to resume talks at a later time.
School employees are protesting the school committee's decision to fire the 26 school custodians this summer and outsource their jobs to GCA, a Tennessee-based company that hired some of the custodians back but at a 30 percent reduction in salary. Superintendent Auger said that decision was made to save taxpayers money. Union officials say they made ample concessions consistent with an arbitrators decision that the committee would honor if it were negotiating in good faith.